This post is also available in: العربية (Arabic) اردو (Urdu)
'There is no good without bad'
When it comes to anything in this world, dualism is always co-existing. The same can be seen in the police forces of Pakistan. Because of a few undignified officers who regularly indulge in the illegal use of authority, not fulfilling their duties until bribed or approached by someone with power and exercising corruption like religion, entire police force's reputation has tarnished.
Still, Pakistani police have time and time again proved the nation by their prompt responses to a common man's plea and serving them to the best of their abilities. A similar story of a great performance by Khairpur police has come to the attention that they recovered a minor girl who was just 3.5 years of tender age from her kidnapper by skilled tracing of the culprit and intense search of the little child.
Anaya Was Soon Recovered From Gulistan Colony By Intelligent Responses Of The Khairpur Police
Her father Naveed Ahmed Soomro appeared at PS A Section and informed about his minor daughter who has been missing for the last three hours. He had suspicions that his daughter might have been kidnapped. ASP City Dr. Imran with SHO PS A Section upon receiving the application took instant action and arrived at the place of incident.
Also Read: MEET TAHIR KHAN MALIK – THE FIRST POLICE CONSTABLE FROM KPK WHO COMPLETED HIS PH.D IN BIOINFORMATICS!
Following Steps Were Taken By Them To Recover Anaya And Track And Arrest The Kidnapper
They met the grieving family of Anaya and assured them of their full support and cooperation. Next, they isolated the area where she was kidnapped and started their investigation. Once the intel was gathered it was communicated via police communication devices/systems. They started a search operation along with the family and other locals in hopes to cover larger areas in less time.
CCTV cameras in alleys play a major role in assisting authorities in their search for the accused. They went through the footage and were able to find some lead on the person who seems like a young boy himself barely in his teens walking away with baby Anaya.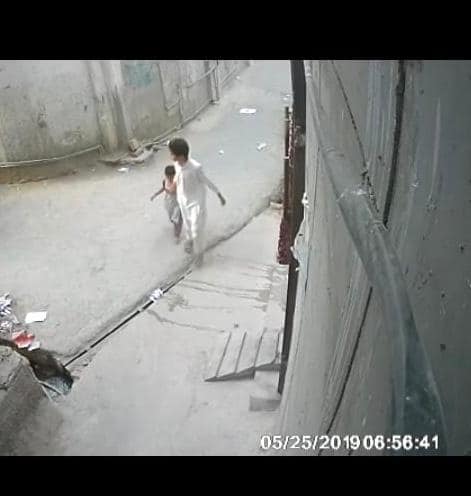 The gathered information and details about Anaya were posted on social media with intentions of it to be circulated and so it did. They also had to do the formalities associated with police recorded; so they filled the legal requirements by adding the required necessary information.
With untiring efforts of the police, Anaya was recovered after one day from Gulistan Colony while the boy who abducted her was also traced and caught courtesy of the CCTV. He turned out to be a 14-year-old boy Danish Oad.
FIR No. 89/2019 u/s 363 PPC Has Been registered Against The Culprits Dansih Oad and Sikandar Oad
A case of kidnapping has been registered. The minor girl Anaya has been subject to a thorough examination to rule in or out the possibilities of potential sexual violation of any kind based on the reports. Furthermore, the investigation is ongoing.
Several brutal cases involving minor girls have become frequent and it seems there won't be a stop to such injustice being caused to innocent lives until strict actions as proposed by the Prime Minister Imran Khan are taken against such barbaric men. Have something to add to the story? Comment below.
Also Read: THIS POLICE INSPECTOR WAS JAILED FOR NOT GIVING UP HIS ANCESTRAL LAND WHICH DHA WANTS TO OCCUPY!