This post is also available in: العربية (Arabic) اردو (Urdu)
On Friday, April 19, 2019, a case was registered regarding the death of a woman in Awami Colony Police Station, Karachi. Though the early proceedings said that on the previous night, the woman named Asmat allegedly died due to the negligence of the medical staff of a government hospital in Korangi no. 5 but the autopsy report later revealed, she was subjected to the heinous crime of murder, post-rape.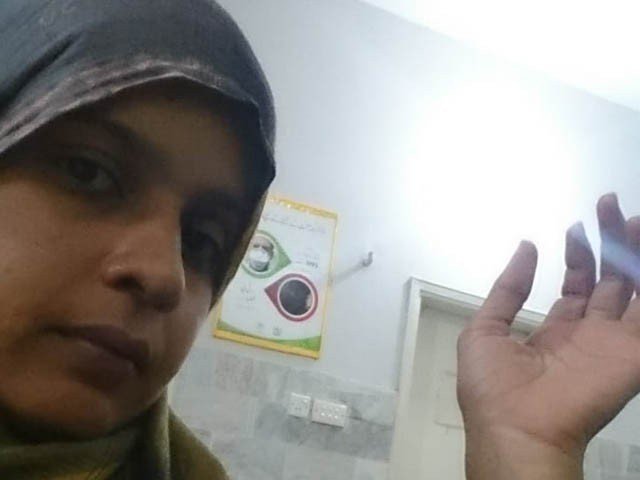 The victim, 25, visited the hospital complaining about a toothache. The doctor on duty, Dr. Ayaz, wrote a prescription of injection and handed it over to the compounder, Shahzaib who was later taken into custody by Korangi Police confirming that Asmat was poisoned through injection. Dr. Ayaz, the other suspect is still at large while the police are conducting raids to make his arrest.
Asmat was a bright young woman, an emerging community leader in Ibrahim Hyderi. An independent woman, she was financially supporting her family.
Another Day, Another Hospital, Another Life Taken…
This is not the first incident of its nature when a life is taken by a so-called savior himself. Earlier today, nine-month-old Nishwa Qaiser passed away after the doctor's at Darul Sehat hospital gave her the wrong injection that mentally paralyzed her.
Even the Visitors are at Stake…
Earlier this year, we witnessed another horrific incident of such nature when a woman visiting her ailing son in Lahore Mayo Hospital was also Physically tormented by hospital staffers.
She told the police that upon entering the admin block mistakenly, the guard threatened her that her son would be discharged as 'punishment' if she does not appear before the inquiry board early morning (5 A.M.) the next day…
Fearing suspension of her son, she arrived punctually at the given time.
Shockingly, as soon as she stepped into the room, suspects were already waiting for her; they locked her in the room and pressed-on with the crime.
Doctor or Devil… How would you differentiate?
Also, in November 2018, Lahore, another woman went through such trauma when she visited a hospital complaining about severe pain in her private parts… She was then taken to the surgical ward where the doctors sedated her before carrying out their heinous act.
Health Minister Punjab, Yasmeen Rashid later took notice and ordered a probe into the matter.
Are we Really Serious to put a full-stop to this!!
Cases like these prove the need for stricter punishment to ensure that nobody feels confident enough to break the law and get away with it, especially when such crimes are concerned. At a time when the judiciary, clearly bending over backward to ensure justice to the common man, is even apprehending the high and mighty in pursuit of justice, crimes against women must be accorded with higher priority. It is now for those in power to prove that they are up to the task.