This post is also available in: العربية (Arabic) اردو (Urdu)
The Pulwama terror attack has been making waves for almost two weeks now. The feud between India and Pakistan was verbal so far, was limited to banning the Pakistani talent in India and making an effort to resolve issues via discussion.
However, recently The IAF planes crossed the Line of Control (LoC) and were chased away by Pakistani Air Force.
Although masses are outraged by this act by India, there's one person who knows how to add a little humor to this entire situation and makes it a point to show Indians their place.
Our favorite gora-comedian, Jeremy McLellan continues to make headlines every now and then and proves to be savage AF!
His humorous tweets and Facebook posts have been increasingly popular now. Jeremy McLellan's surreal rise to popular came off his left-wing political stance, his liberated thoughts of the Muslim community in general and his proactive approach towards the wrong and condemnable.
Since McLellan is always in the limelight for siding Pakistan over India, we simply love him! The guy may be a Caucasian on the outside but he's a true desi in the inside.
The comedian has been hit with massive criticism by local Indians who cannot stop accusing him of being paid by Pakistan for tweets against India. Meanwhile, he continues to cruise his way through his world-class humor and gives us things to laugh about!
Here's what Jeremy McLellan shared on his Twitter right after the Indians made a petty move that they 'assumed' would affect Pakistan.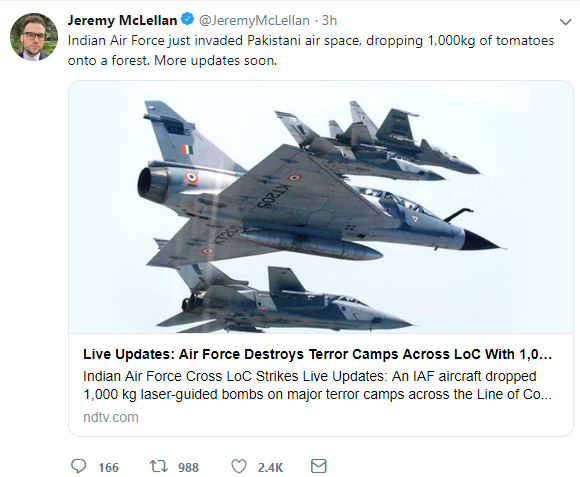 Pakistanis after Jeremy McLellan expressed his views on the recent incident that occurred!
His sarcasm game is pretty strong! No doubt Indians are all about the tamaatar!
This is so on point! Apparently, Indians like attention…
Video footage of India's "invasion" of Pakistan pic.twitter.com/dExy3fUc1C

— Jeremy McLellan (@JeremyMcLellan) February 26, 2019
It's no surprise that people enjoyed this response by McLellan and there was a flood of tweets. Check these out!
LOLOLOL
This is actual footage of #surgicalstrike2 pic.twitter.com/TOC3vXpmTC

— ALi M๑нα๓๓εδ ?? (@soldier7867) February 26, 2019
Could this get any better? I love this guy.
Endia running back hard.. pic.twitter.com/WWNXxZhw8x

— Pakistani (@RizviNajia) February 26, 2019
Yasss!
MySalutations to you Sir, no one canTroll indians better than u

— Suff Shikan (@Suff_Shikan) February 26, 2019
Well, there's no denying in that.
You are seriously the best thing that has ever happened to Pakistan and the worse thing for Endia ?

— Muhammad Abbas (@Abbas_it_is) February 26, 2019
Moreover, Jeremy McLellan didn't just stop there. He went on and was vocal about what Indians did. Have a look.
I swear this is beyond hilarious!
Additional footage showing premature payload release. pic.twitter.com/x89mQpum86

— Jeremy McLellan (@JeremyMcLellan) February 26, 2019
This guy is the God of sarcasm and humor who knows how to shut Indians up well.
Scary times. Responding to anger with love ❤️ pic.twitter.com/Le9ywCHd1X

— Jeremy McLellan (@JeremyMcLellan) February 26, 2019
Love, love, love! How savage is he?!
After the Indian trespassing, an emergency meeting was called by Foreign Minister Shah Mahmood Qureshi. Furthermore, there will be a discussion with Prime Minister Imran Khan about the current stance and what actions need to be taken against it. President Imran Khan has yet to make a comment on this!