This post is also available in: العربية (Arabic) اردو (Urdu)
The dispute between Pakistan and India began when the India airstrike intruded the border of Azaad Kashmir on the 26th of February. The government has reported zero causalities after the incident and is seeking no further escalation.
Recently, General Asif Ghafoor tweeted that an Indian Pilot has been caught by the Pakistani troops.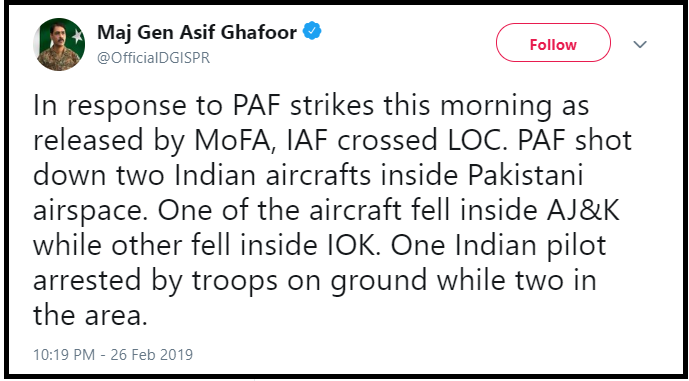 The following video clip is now surfacing on social media and Pakistani citizens are sympathizing with the Indian Pilot who's been identified as Abhinandan Varthaman and he will be presented before the Pakistani media in the evening.
Indian pilot in custody of the Pakistan military pic.twitter.com/n5er7PvBT2

— omar r quraishi (@omar_quraishi) February 27, 2019
What's your take on this?
For all those saying give him aid. He just survived a fucking crash. He will be dealt by in accordance with the rules of the Geneva convention, handling of the Officer will be the same as Kulbushan yadev. An officer caught is still an officer and will be treated that way. Regards

— Harib.b.yousaf (@HaribCubix) February 27, 2019
Another user partook in the discussion and shared his views of treating the pilot with honor.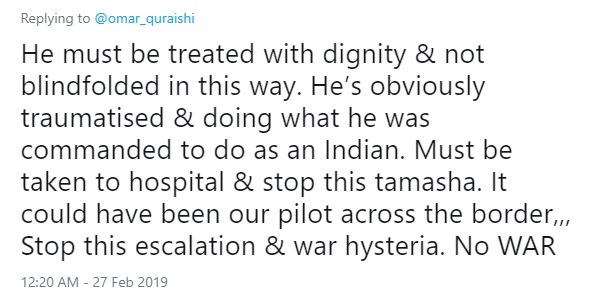 People are pouring their hearts out and encouraging the Pakistan Army to not harm the Indian pilot.

One more user stated that we should be more empathizing towards the pilot that's been taken into custody.

After all, they do just follow orders…
Please note there are many Pakistani voices calling for the Indian airforce pilot in custody to be treated with dignity.

— fatima bhutto (@fbhutto) February 27, 2019
  The pilot's possession…
Possessions of the captured Indian pilots pic.twitter.com/4gscIuuc4F

— omar r quraishi (@omar_quraishi) February 27, 2019
Pakistan is a responsible state and behaving in a polite way with the Indian pilots taken into custody," said Major General Asif Ghafoor.
According to the DG ISPR, Indian fighter jets violated Line of Control (LoC) today, and in a robust response, the PAF finished two aircrafts of IAF inside Pakistani airspace.
The feud between Pakistan and India has reached a very critical stance and we will update you as soon as there's more information regarding the situation.
Let us know if you have anything more to add to this story.