"If we can't begin to agree on fundamentals, such as the elimination of the most abusive forms of child labor, then we really are not ready to march forward into the future," Alexis Herman. According to the Federal Bureau of Statistics, in Pakistan, out of 40 million children, 19 million are working as child laborers.
In Lahore, the 11-year-old maid, Kinza Bashir, had been brutally tortured by her patrons; an FIR was launched in the Child Protection Bureau. As reported by the sources, the girl escaped the house of her employers and went to the neighbors' home where she was ceded to the Child Protection Bureau. In timely fashion, the police arrested the alleged couple who had burnt the 11-year-old girl with a hot iron.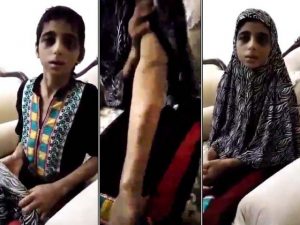 The alleged couple, Dr. Major Ammara and Dr. Mohsin Riaz belong to Pakistan Army. Soon after the Fir was launched, CPO Ahsan informed the army about the proceedings against the couple. The army intervened and interviewed abused Kinza along with the Station House Incharge, and had obtained records of the case from Child Protection Bureau. Pakistan Army has its own way of taking actions against its personnel. It is pertinent to mention that the army interviewed the girl in a private one-on-one session.
The suspect was arrested after his pre-arrest bail was rejected by the court. Although medical scrutiny reported that the ribs of the victim are fractured, the couple repudiated the allegations made against them. While describing her maltreatment, Kinza, asserted that her employers used to torture her by belts, rubber pipe, and a kitchen knife over trivial matters.
Although Pakistani society is motivated by Islamic norms and values, the humiliating behavior of employers is quite alarming. Lack of moral education, superiority complex and desire to rule, lead to such humiliating behavior against innocent children. Materialistic attitude has altered all the previous ethical traits. Sadly, in today's world, many people are being driven by materialism rather than spiritual values.
In Pakistan, torturing of a child domestic workers is prevalent. In January 2018, a case was reported against the additional session judge Islamabad and his wife for torturing the 10-year-old girl, Tayyaba. Similarly, in 2017, an FIR was launched against the owner of a house in Islamabad allegedly for physical abuse of the 12-year-old maid Saima.
SAIMA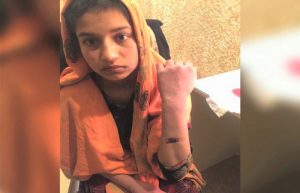 Tayyaba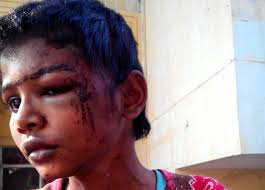 Social media responded to the humiliation of Kinza in the following manner:
 Addressing DG ISPR
Umm jaan ki amaan paaun toh arz karun, woh Major sahiba ka case kahan tak pohoncha @OfficialDGISPR?
Taking nothing away from this. The child protection bureau has huge potential – government should focus on better publicity and accessibility.https://t.co/zlvjkuQMwF

— Faizaan Qayyum (@faizaanq) October 28, 2018
People are asking, is it NAYA PAKISTAN?
Another case of child maid, victim of brutal torture and mistreatment by her employers, the girl has burn wounds from a hot iron on her body. Can we expect complete ban on #ChildLabour & concrete protective measures for #childcare in #NayaPakistan ?https://t.co/CXgvW2EmS6

— Zeba Hussain (@ZZebahussain) October 28, 2018
This man is thanking Shireen Mazari and Lahore Police for the timely action against the couple
THANKS FOR SWIFT ACTION @SheerinMzariPTI @Lahorepoliceops
The Child Protection Bureau in Lahore has registered a First Information Report regarding the alleged torture of an 11-year-old maid by her EMPLOYERS, Lahore police said on Sunday. https://t.co/6JEhtNG40d

— AaliJahS (@JaahAali3) October 28, 2018
Is he a skeptic? Will army take any action against the couple
Today again another child maid was tortured in Lahore the evil Masters were fuking civilians got arrested.what about last week Kinza tortured case why Army Major Doctor was spared from jail time for the crime of torturing a 11 year old maid kid .why no parent is punished for

— Asif (@Asifniaziipad) October 28, 2018
The ever-rising cases of child domestic abuse in Pakistan need to be addressed on war-footings. The government which has come to power by chanting the slogan of  "CHANGE" must do something that brings change regarding child abuse and child labor in the country.