Pakistani politicians from making a joke out of themselves to trying to implement something of sheer stupidity, have gone really far for the throne. The current Imran Khan lead government has triggered the opposition parties once again and they are ready to throw some filth in the Holy Spirit of Ramzan. Pakistan People's Party (PPP), Pakistan Muslim League Nawaz (PML-N) and Jamiat Ulema e Islam (JUI-F) have formed an alliance against Pakistan Tehreek e Insaf (PTI) to devastate Khan's policies and make him go home.
Last Sunday, PPP Chairman Bilawal Bhutto Zardari hosted a 'Grand Iftar Dinner' at Zardari House, Islamabad for the opposition party leaders. Maulana Fazlur Rehman, Hamza Shehbaz, Maryam Nawaz and other party members were present at the event. The main focus of the whole event was to discuss the strategies against PM Imran Khan's policies and how to take the present government down.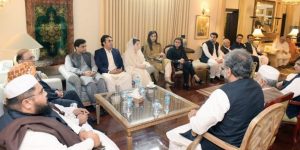 As the iftar dinner was over and the pictures were released in the media, Pakistanis were quick to notice an unusual arrangement. Maryam Nawaz was seated beside Bilawal Bhutto Zardari the whole evening and it seems like something's really fishy. Have a look at the photos below!
They do look good together!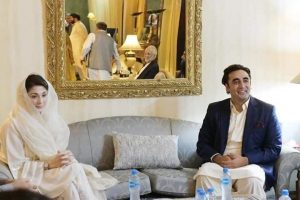 Masha Allah! Masha Allah!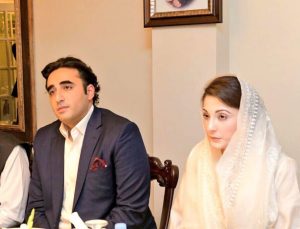 Bilawal be like: Suno Chanda!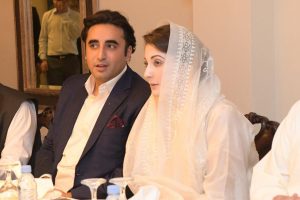 Hamza Shehbaz disapproves!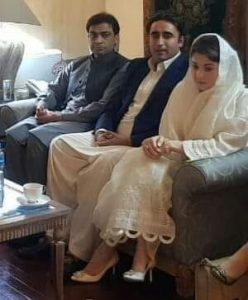 Everyone is now thinking that Bilawal and Maryam are in each other's nikkah and the hashtag #BilawalKiIftaar is trending on Twitter since then. Pakistanis have so much to say to the 'maybe couple' and many are even wishing them the best for their life ahead. Check out the reactions:
Also Read: The Striking Differences Between PM Imran Khan And His Opposition Leaders Are Definitely Eye-Opening!
Waisay baat to theek hai!
Talking About this Pic🤣😂 Maryam Ka Sharmana as Seems Like It's Her Nikaah With Bilawal🤭🤪#BilawalKiIftaar #MaryamNawaz pic.twitter.com/lC5gweK0d5

— Mr. Raza (@im_raza25) May 19, 2019
Hamza Shehbaz being a typical Pakistani brother!
Social Media 😇 #MaryamNawaz ki shadi #BilawalBhutto se 🤣🤣 Mazay….. pic.twitter.com/dALbetdjYN

— ShaNi Butt (@shaniofficiall) May 20, 2019
Awkward memes on the roll!
Me sitting next to my crush..#maryamnawaz #bilawalBhutto pic.twitter.com/VFxbYG4iA4

— ہارون (@Haroonayyy) May 19, 2019
As Savage as it can be!
#MaryamNawaz in a bit hurry to get the election conducted, just like she was in hurry to get married to Charsi Captain Safdar. pic.twitter.com/Wvfc5msudY

— Banana Tweets (@Kella_Khao) May 15, 2019
Pakistani Karan Johar?
#MaryamNawaz must be feeling so safe sitting next to #BilawalBhutto

— Cute Now Cuter Later (@soulnobody) May 19, 2019
So, it happened again!
Well well….
Pic 1: Benazir Bhutto and Nawaz Sharif
Pic 2: Bilawal Bhutto Zardari and Maryam Nawaz Sharif (their children) #MaryamNawaz #bilawalbhuttozardari #BilawalKiIftaar pic.twitter.com/jiHRkaKAYA

— Ahaz Makhdoom (@ABSMakhdoom) May 19, 2019
Setting jokes aside, the masses were separated by two angles, one who was praising them both and comparing them with the time when Mohtarma Benazir Bhutto and Nawaz Sharif decided to work together. Secondly, the ones who are criticizing the meetup and calling it quits for the opposition. Everyone is now waiting for the final move by the opposition.
Liked the story? Let us know in the comments below!