In the past 10 years, terrorism has swallowed Pakistan to its core. In 2014, The Pakistan Armed Forces conducted a joint military offensive to eradicate every ounce of terrorism prevailing within the state. The operation was called Zarb-e-Azb and it did satisfy the people of Pakistan to a large extent. Many of our brave jawan embraced Shahadat and a huge number of militant groups were sent to hell. The Pakistan army lead operation was considered a success and the sponsored terrorist elements were widely eliminated.
This year, the growing Pakistan-India tensions lead both the countries to the initiation of war but Pakistan was bold enough to maintain peace. Last Saturday, dated 11th May 2019, Gwadar area of Balochistan was under severe attack which resulted in major casualties. The area is mainly famous because of the China Pakistan Economic Corridor (CPEC) project being constructed there. Since the commencement of the development project, it has triggered the neighboring country.
The barbaric attack was pulled off at Zaver Pearl Continental Hotel (PC), an international 5-star luxury hotel chain. According to the reports, India sponsored militant group Balochistan Liberation Army commonly known as BLA was involved in the attack. Soon after the incident, BLA took responsibility and this alarmed the authorities in a subtle manner.
Sources reveal that the perpetrators died in the crossfire by the Pakistan Armed Forces. SSG Commando, Muhammad Abbas Khan and two security guards of the hotel named Zahoor and Bilal embraced Shahadat. Pakistan Army official Captain Kakar, was badly wounded and then rushed to the nearest hospital. The courage and valor that was displayed during the attack is a live proof of what Pakistan means to its people.
As the news came over the media, many other aspects were presented. A screenshot of SSG Commando Muhammad Abbas Khan's Whatsapp chat was shared multiple time on the internet and Pakistanis are sad.
This is the chat screenshot: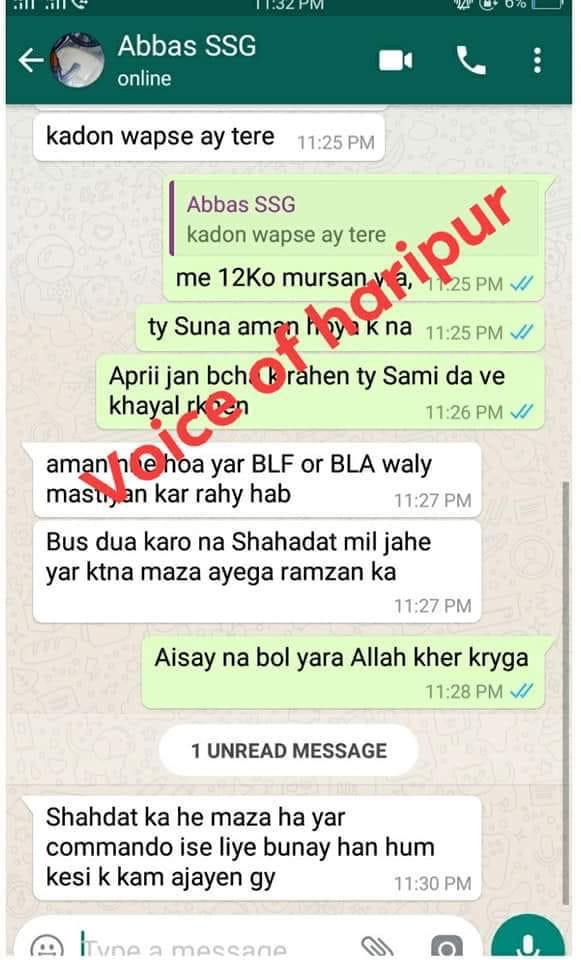 The chat is a mixture of emotions and will to embrace Shahadat without fearing anything. The eagerness of our brave jawans to line in for Shahadat give more reasons to the Pakistani awaam to be more proud of their Armed Forces. May Allah keep our country and Armed Forces safe from all evil.
Pakistanis even took to Twitter to express their feelings on the incident:
Our hero, our pride!
Sleep in peace, your oath is fulfilled. We meet soon. Till then, RIP. #Salute. ??#GwadarAttack pic.twitter.com/laIao5UUUV

— Colonel Rudolf Abel (@Viperonaut) May 12, 2019
Ameen Suma Ameen!
Shaheed Abbas khan from SSGN
May Allah grant him high rank in jannah ❤#GwadarAttack pic.twitter.com/xQKw7l3fqm

— شاہینہ فریدی (@Shaa_Fi20) May 12, 2019
People are now aware of the sponsor!
#SriLankaTerrorAttack #GwadarAttack and now #Quettablast all linked with #IndianProxyWar in the region. India destablizing region pic.twitter.com/NBn366PCli

— Iftakhar (@iftiahmadgul) May 13, 2019
Want to add something to the story? Let us know in the comments!