The cricketer turned politician Imran Khan Niazi has been a prominent and famous personality of Pakistan since his cricketing days. Later on, after being retired from cricket, Imran Khan founded Pakistan Tehreek-e-Insaf (PTI). After so many years of sheer struggle and consistency. Last year, PTI won the 2o18 elections and Khan became the 22nd Prime Minister of Pakistan and the nation was cheering.
Few days back, a picture of Imran Khan went viral on social media and the "jahil awaam brigade" started doing propaganda against him, again. The picture was shared by a Facebook user with a really uneasy caption written on it. The awaam was quick to respond and a clash between the PTI and Anti PTI clans.
This picture made huge rounds on the internet and people are defending their PM: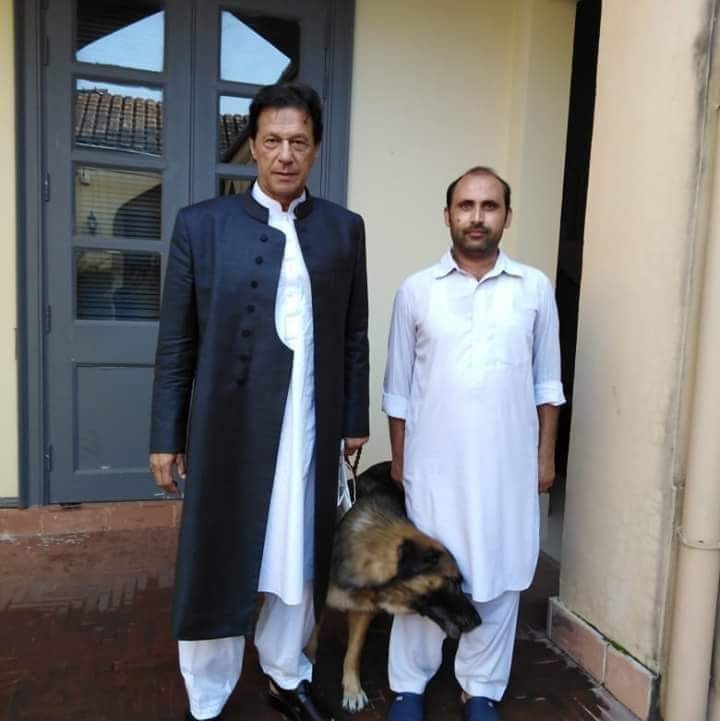 In the picture, PM Khan is seen holding the belt of his pet German Shephard with the same hand he's holding 'tasbeeh' with. This triggered a lot of Pakistanis but many defended him too. Some comments made on the post even called the PM 'paleet' and people have lost it for real.
Here you can see someone who isn't familiar with editing at all!

Galat baat hai ye! *Tsk Tsk*
He pointed Sharif out really well!
OMG! This makes no sense!
This guy needs some schooling!

Behtreen baat krdi!
Paaji! You said it right!
Waisay lg to rha hai! Nai?
No matter what others think but the fact is that Khan is trying his level best to take Pakistan out of dark shadows. Awaam is being patient and understanding the consequences of the current situation of the state.
Have something to add to the story? Comment below!