This post is also available in: العربية (Arabic) اردو (Urdu)
For Pakistanis, attending a marriage is taken as a responsibility, especially if it's of a close relative or family friend because you know 'tm kisi ki shadi main nai jaogay to koi tmhari shadi main b nai aaega'. The tantrums that mothers throw when the family has to attend someone's marriage is just another phase. Honestly, this 'rishtedar kia kahengay' brigade has forced many individuals to attend the event and no one knows till when.
These days, where failed love marriages have a much higher percentage than arranged ones, there are some people who absolutely refrain from getting married. At one side, where live-in relations has become a thing, Pakistani guys have settled their belief on the 'bros before hoes' quote and it's quite working.
A picture was shared numerous times on social media which initiated a debate between the marriage and no marriage groups. The letter went viral all the way from Peshawar, Pakistan and it made the awaam laugh so hard.
Here's the letter: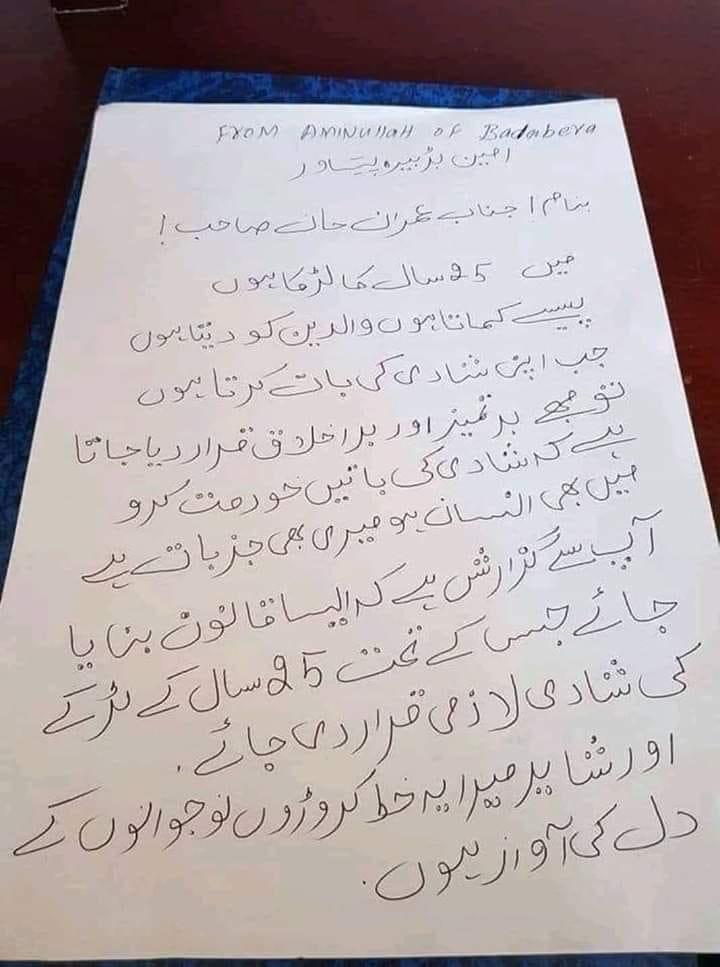 Here's the translation for your ease:
"From Aminullah of Badaber, Peshawar!
Addressed to Mr. Imran Khan,
I'm 25 years old, earn well and give it all to my parents. Whenever I talk about my marriage, my parents call me ill-mannered and insolent and I'm asked not to talk about my marriage by myself. I'm also a human and I have feelings too. It's a request that you draft a law which makes marriage mandatory for boys aged 25. 
And maybe this letter is the voice of millions of other boys."
The poor guy has drafted a really unique request to the PM. We just hope that this letter somehow reaches to Imran Khan and may the guy gets married soon and stays happy.