This post is also available in: العربية (Arabic) اردو (Urdu)
Haider Abbas Rizvi, a prominent member of the MQM Rabitta Committee, recently stormed the headlines when he was pictured as an Uber driver registered on the app. Thereafter, we saw an uproar on social media. Mr. Haider Abbas Rizvi is a recognizable face, especially to Karachiites. He has been a leading member of MQM-P and has gained massive support from people for long now.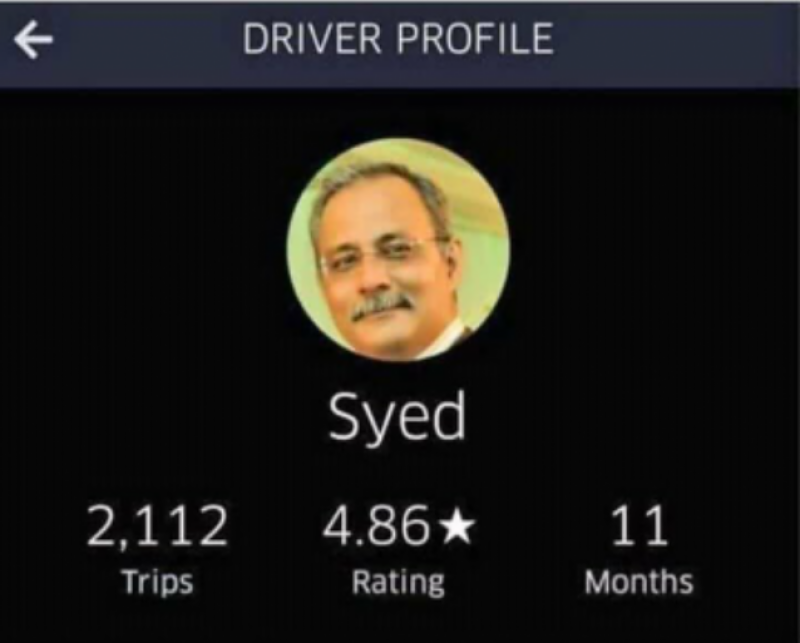 Many people insensitively mocked him for being employed at Uber. Normally, it is a myth among the status quo in Pakistan that all politics reap exuberant benefits and plunder the country using their power. That is true but that is not completely true, however. One cannot judge or either offer anyone a clean slate.
So, Haider Abbas Rizvi is being mocked by many people for earning fair in another country and it has brought us the shame to even think why would people mock it… Pakistanis on social media are actively bashing the trolls who mock him for it. To our surprise, a prominent journalist on social media just took a jab at him…
Here is what he tweeted upon the arrival of Haider Abbas Rizvi in Karachi
Had no idea driving an Uber ages you so quickly… pic.twitter.com/nc9hpk5OrV

— omar r quraishi (@omar_quraishi) June 6, 2018
"Driving Uber ages you quickly"- he wrote.
It has enraged many Pakistanis on social media. People are calling out him on such words and absolutely condemn any sort of trolls against him. It's a decent matter and a humble question that why would anyone be made fun of him for earning a fair livelihood? Are we too accustomed to politicians plundering our country?
Here's how everyone reacted to the tweet:
Breaking: Consultant to a PPP leader is found to be suffering from a horrible case of word vomit upon coming across a man trying to earn an honest living. Says it's incurable since the teer has gone too far up the ass now. https://t.co/q4m3wXtsnU

— Fariha (@Fay_Alif) June 6, 2018
Whoa…
God help @BBhuttoZardari, if he has media consultants like you.

— بابا رحمت دین (@rehmat_baba) June 6, 2018
That's the perspective
i really hold respect for him, he preferred driving Uber than selling his loyalty

— Nouman (@NoumanFK) June 7, 2018
Seriously, what?
there's no shame in driving an uber. WHAT IS WROG WIT YOU ?

— Munazza مُنَزَّہ (@munazzaanwaar) June 6, 2018
Halal ki khata hay …haram ki nahein.. agar ya baat samjah ajaiy

— Tariq Irfan (@Tariq_Irfan) June 6, 2018
Right on point!
So the job of a media consultant involves making personal remarks about people. Hmm, interesting. May thy Lord help you.

— Maha Siddiqui (@mahasiddiqi) June 7, 2018
There is nothing wrong in earning halal. What's your point???

— Dr Kazmi (@DrMurtazaKazmi) June 6, 2018
Shame on you for saying this, he drove cab to support his family nd there's no shame in it though it is shame to write for yellow envelope .

— pindi ❤️غدار (@waseemliaqatt) June 6, 2018
No one should be shamed for driving a cab and there should be no stigma in driving cabs for anyone. He appears to be supporting his family in a decent way and should rather be encouraged instead of being bullied.
What do you guys think?