This post is also available in: العربية (Arabic) اردو (Urdu)
When it comes to technology one can say that Pakistan is still in the works to become a technologically advanced country. The new government has taken several initiatives to facilitate the people with cutting edge technology in efforts to make Pakistan a progressive nation and take it out of the rut it has been in for quite some time.
Most of our government organizations are still relying on journals and book-keeping instead of bringing automation. This has definitely kept us behind for years but slowly and steadily things seem to be improving.
The Supreme Court of Pakistan on Monday Made Judicial History By Attending To Cases Via An E-Court Facility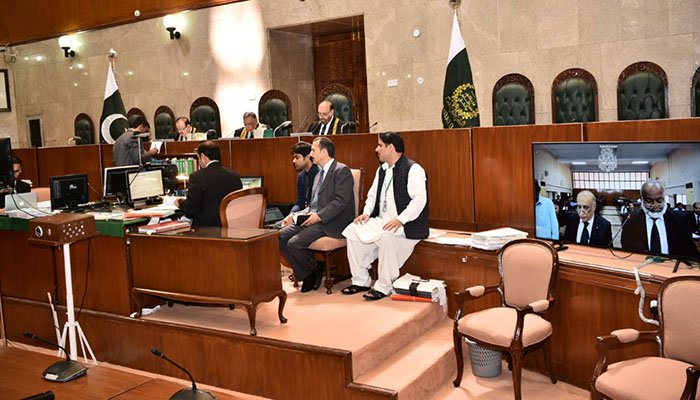 The communication between the two courts was carried out through a video link. Chief Justice Asif Saeed Khan Khosa, Justice Sardar Tariq Masood and Justice Mazhar Alam Khan Miankhel headed the three-member bench. Justice Khosa remarked while hearing his first case that how great of a milestone has been achieved by the help of such technology at their disposal.
This breakthrough will definitely provide lawyers with the convenience to pursue the cases while staying stationed in their own cities from the court's branch registries. The litigants will also be benefited largely as they will not have to travel to Islamabad for court proceedings.
According to the jurists, the courts have a large number of pending cases that for one reason or another were never attended to, so the video link will also assist in reducing the backlog and clearing out the delayed cases. They also believe this system to be cost-effective and provides accessibility.
Chief Justice Khosa in his speech stressed that there is a need to make structural and systematic changes to minimize litigation, remove delays and rationalizing the workload including restructuring and redesigning of the entire judicial system.
Have a look at this video!
This is definitely a great step ahead by incorporating improved tech solutions in the judicial sector of Pakistan and hopefully, this will facilitate them in disposing off pending cases.