In this era of enlightenment, the 21st century where people assert that gender disparity is not an issue anymore, and both the genders are equally treated is a hoax in Pakistan.
One of the biggest educational institutes of KPK, Khushal Khan University bans male and female students from sitting together in the central library. This has raised a vast hue and cry about the controversial orders by the university administration. Students have been warned of strict action if orders are not followed.
University administration believes by taking this action, an environment of serenity and silence will prevail in the library and the action has been taken owing to multiple complaints against the students. In the official notification, chief proctor asserts, "Students should be strictly warned of any such activity that may cause a disturbance in the library, if fails then they must be forwarded for strict disciplinary action." He further proclaimed, "sitting place for the females may please be specified in the library in order to maintain the discipline of the library, where no male student will be allowed to sit."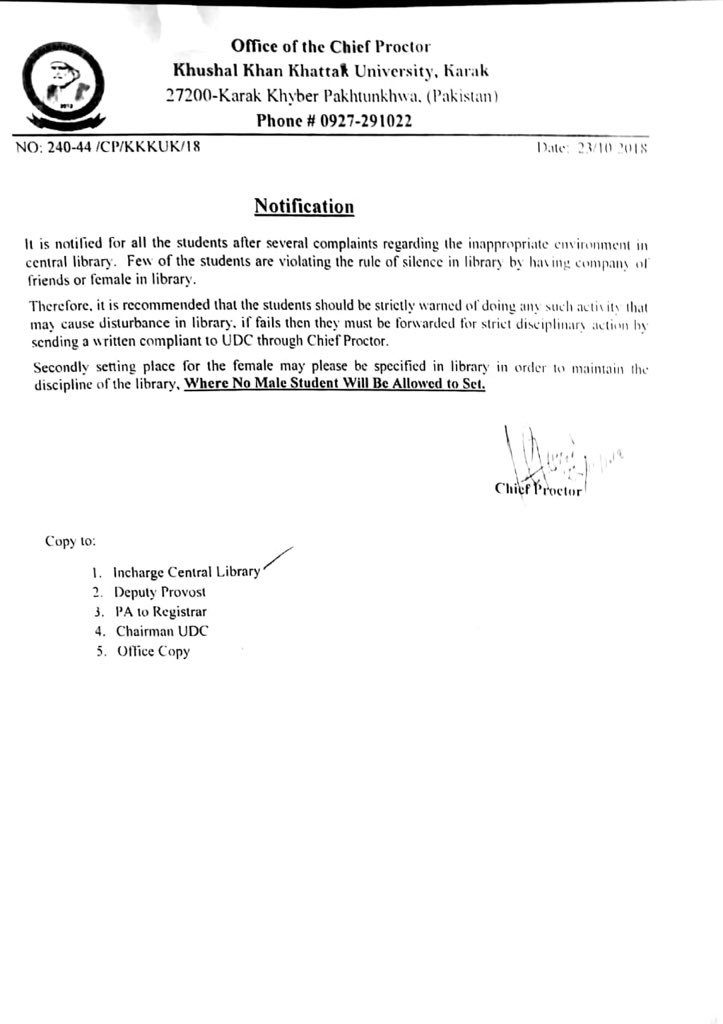 It is alarming, in this era of rapid progress, institutions in Pakistan are hindering the social growth of genders. Such orders beget feelings of deviancy between the two genders, male and female. It also creates social stratification; a cardinal cause of social evils.  A university is the hub of learning where we learn ethics and morals apart from a curriculum, to be successful in the world. It is pertinent to mention here by discriminating between genders, are our institutions really endorsing education?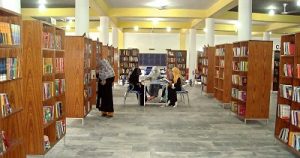 The university administration could have taken other ways to assure silence and a soothing environment in the library, one of them could be appointing a strict librarian who could control any situation. Segregation on the basis of gender for sitting in the central library will not yield any good to the students.
Pakistan ranks 143 according to the global gender gap report. Such acts by such institutions further diminish the already tarnished image of Pakistan. Secretary Education KP or Minister Education along with the governor KPK Shah Farman, must take action against the notification of Khushal Khan University.
The controversial order also stormed social media and people reacted in a caustic manner towards the administration of the university.
Khushal Khan Khattak University bans girls, boys from sitting together https://t.co/7e4f6fILpe@upeshpakistan #Education #Basicrights @educationweek

— Khalida Niaz (@khalidaniazz) November 3, 2018
Previously, a similar controversial order was passed by the Bacha Khan University where a ban was put on male and female sitting together in 2017. The moot point is those who give education and administer educational institutes are themselves paving the way towards gender disparity.