This post is also available in: العربية (Arabic) اردو (Urdu)
In the past, many business persons and famous people have been abducted for the sake of money. Abduction in Pakistan is not a big deal, but when it comes to an abduction of a police officer, it raises many questions.
Reportedly, Superintendent of police (SP), Tahir Khan had gone missing since October 26. Tahir khan served in Khyber Pakhtunkhwa Police and on a short leave, he went to Islamabad on October 26, 2018. According to sources, his phone went off after 8 pm and since then there is no clue about him. His strange missing has cropped up multiple questions.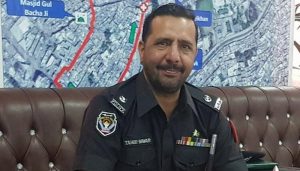 On Tuesday, the news about the killing of SP Tahir Khan stormed the social media. A bruised picture of SP Tahir went viral on media. It was also reported, that the SP had been taken to Afghanistan's Nangarhar province, where he was brutally killed.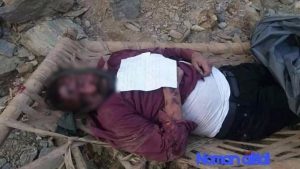 Besides, a speculation on social media suggests that certain elements killed SP because of his relations with the Pashtoon Tahafuz Movement (PTM). Another supposition is that he was killed by the Taliban and ISIS. Moreover, another debate on social media questions the law enforcement authorities saying, "the saviors are not safe in Pakistan."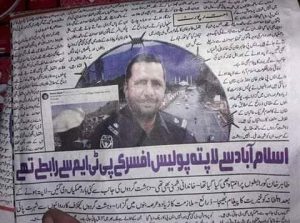 Yesterday, Minister of State for the interior, Shehryar Khan Afridi denied the killing of SP Tahir Khan. When asked by a reporter about the death of SP Tahir, the minister replied, "It is a matter of national security and someone's life, and cannot be discussed on an open forum." "A fifth generation and cyberwar have been imposed on us," Afridi said. The minister further asserted, "Photo-shopped images and fake news are being spread nowadays."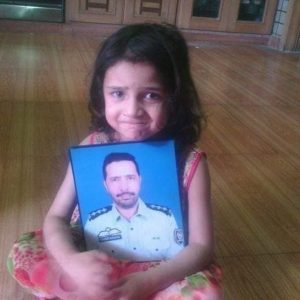 However, Today Afghanistan's' Foreign office has confirmed that they found service card of Sp Tahir khan with the dead body at Nangarhar Afghanistan. His dead body would be given to embassy of Pakistan after necessary official paper-work.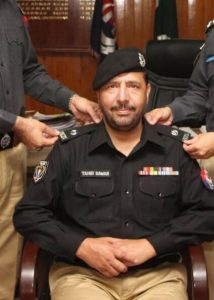 Tahir Khan had also served in Peshawar airport immigration under Federal Investigation Agency (FIA) and later on served in counterterrorism department of the FIA. After that, he was transferred as DSP in KPK Police and earlier this year, promoted as Superident of Police (SP). Furthermore, SP Tahir Khan had also served in the United Nations (UN) twice.
The killing of SP Tahir Khan stomped the social media
The supposed killing of SP made Shahbaz Taseer remember his days in captivity
I swear to God it's posts like this that make me stop and thank Allah. I don't know how I managed to survive these barbaric people and that treacherous place. I used to feel as if these areas were blood thirsty and soulless almost as if they had been abandoned by God. https://t.co/RkfyTrLj7Z

— Shahbaz Taseer (@ShahbazTaseer) November 14, 2018
Pashtun Tahfuz Movement and SP Tahir Khan, in the words of Marvi Sirmed
Exactly what I asked yesterday. PTM was the only group that raised voice for #TahirDawar immediately after he went missing. If PTM is agent of NDS etc, why did NDS kill Dawar? If TTP (that is called anti-Pakistan) killed Dawar, it means PTM can't be anti Pak. Commin sense 101! https://t.co/eUGqgum5Sz

— Marvi Sirmed (@marvisirmed) November 14, 2018
Journalist Islamuddin Sajid has Asked PM Imran Khan to meet SP's Daughter
Mr Prime Minister @ImranKhanPTI could you please go and meet with this little girl, she need answer of her qs, she is asking that her father was fighting for #Pakistan but he is missing from yours neighbors #Islamabad since Oct 27, hope you ll hv any answer for her #TahirDawar pic.twitter.com/SaiG9DASKq

— Islamuddin Sajid (@islamudinsajid) November 14, 2018
SSP Umer Riaz, paying tribute Tahir Khan
https://twitter.com/RiazUmar/status/1062362395077681152
Social Activist Jibran Nasir also tweeted about the SP
SP #TahirDawar served with UN twice. Was recommended for Quaid e Azam Police Medal. Survived a suicide attack on his house in Bannu in 2008. He went missing from F10 Isb in Oct. On 7Nov his family gave 5 day deadline for his recovery and today he was found martyred in Afghanistan pic.twitter.com/LsT2ulflT6

— M. Jibran Nasir (@MJibranNasir) November 13, 2018
All in all, things are quite complex in Tahir Khan's killing case. The government should limelight that how a police officer had been abducted Islamabad and found dead in Afghanistan.