This post is also available in: العربية (Arabic) اردو (Urdu)
Both India and Pakistan got independence in 1947, and both are geographically contiguous, yet the relations between the two are strained since there emancipation from the British rule. The deteriorated relations not only hinder the talk between government officials but the track 2 diplomacy of cultural exchange.
In the wake of Pulwama terror attack, where 40 Indian soldiers were taken away owing to the Mujahidieen on February 14, Shabana Azmi and her husband Javed Akhter canceled their trip to Karachi. reportedly, the two-day festival will commence in Karachi art council where artists will pay homage to personalities of the subcontinent.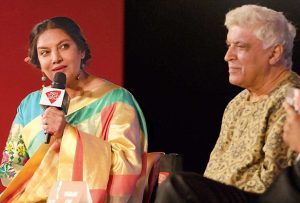 Shabana Azmi and her husband were invited because Karachi arts council were going to pay tribute to Kaifi Azmi, father of Shabana Azmi, the eminent poet.  Earlier this month, a statement from Karachi arts council showcased, " We have invited Kaifi Azmi's daughter Shabana Azmi and her husband Javed Akhtar for the event besides some other notable cultural personalities from India."
However, the Javed Akhter adopting a typical Indian attitude called of their visit and said, "Karachi art council had invited Shabana and I for a two day lit conference about Kaifi Azmi and his poetry. We have canceled that. In 1965 during the Indo Pak war, Kaifi saheb had written a poem: 'Aur Phir Krishan Ne Arjun Se Kaha." 
#Pulwama attack There is no way we can carry on with cultural exchanges between India and Pakistan even as our martyrs are laying down their lives for us. I stand in solidarity with the grieving families.

— Azmi Shabana (@AzmiShabana) February 15, 2019
Similarly, Shabana Azmi wrote on Twitter, "There is no way we can carry on with cultural exchanges between India and Pakistan even as our jawaans are laying down their lives for us." Her statement was clearly against the Pakistan and ethics of an artist_ as art is not confined to nationalities.
Her statement, hurt the feeling of her fans in Pakistan. The president of the Karachi arts council stated, "it was obvious that Javed Akhtar was doing so under pressure." He further said, " I strongly condemn Javed Akhtar. I do respect his talent but I cannot take anything against my country." Haseena Moeen reacted to Shabana's tweet in the following words "India, deep down, has never reconciled itself to the existence of Pakistan", and it was a manifestation of that which we were seeing today".
The cancelation of Azmi's trip stormed the social media
Khawja Asif the lion of Sialkot bashed Javed Akhter on Social Media
The most privileged of Indian Muslims protecting status & being apologetic about their identities,their conscience unmoved by atrocities endured daily by Kashmiris. Thousands blinded, martyred, and orphaned…to them this is not grim,or outrageous. https://t.co/qJ6EOeubNI

— Khawaja M. Asif (@KhawajaMAsif) February 15, 2019
Exactly, Indian's can't digest their food if they Do not blame Pakistan for every bad thing
Blaming Pakistan for every attack in India without any investigation or evidences has become a norm in India. They dnt hv any intelligence before the attack happens. But just as the attack happens they blame pakistan right away. wow

— Arsala (@ArsalaHayat) February 15, 2019
HAHA! This guy nailed it
We understand you are trying to secure your flat Maam. No hard feelings from here

— Junaid Habib (@HabibJunaid) February 16, 2019
LOL! The "Majboor Couple"
Majboori bhi hai unki b.. Ek baar udu Ki tareef kerne pe bhi javed sahab ko clarify kerna para tha

— Daal Chawal (@DaalChawal3) February 16, 2019
"Becharey" Indian Muslims, a reply to Javed Akhter
bechare indian muslims,na sanam mila na khuda mila

— Abida Bhatti (@abidabhatti15) February 15, 2019

The attitude of Javed Akhter and Shabana Azmi is the manifestation of Indian heinous culture. Pakistan Does not give a damn to their visit; hopefully, the people of  India and their "MODI SARKAR" would realize it is not Pakistan but their own attitude towards their minorities Muslims and Kashmiris that wreak havoc on India!