This post is also available in: العربية (Arabic) اردو (Urdu)
Finally, after four long years, the most awaited event of the International Cricket Council (ICC) has begun yesterday. Fans from all over the country are filled with great spirit and obviously, Pakistan VS India on-field is just another story for both sides. Well, all the participating teams have been pretty busy in preparations, meetings, and whatnot.
Among all the hype already created by the event, our National Cricket Team Captain, Sarfraz Ahmed managed to keep him in the limelight. The event is being hosted by England and Wales this year; all 10 captains of their respective teams were invited in the Buckingham Palace before the official commencement.
Also read: Pakistanis Are Lauding Sarfraz Ahmed For Wearing A Traditional Shalwar Kameez To Meet Queen Elizabeth!
The meeting that steered a debate among cricket fans.
Queen Elizabeth II and Prince Harry met the captains and wished them luck for the matches. Other team captains looked dapper in suits while Pakistani Skipper Sarfraz Ahmed gave preference to the national dress. His dressing sense was largely applauded by the Pakistani awaam as well as other cricketing rivals. Many eyebrows and questions were also raised.
Just look at the Captain. All green and white!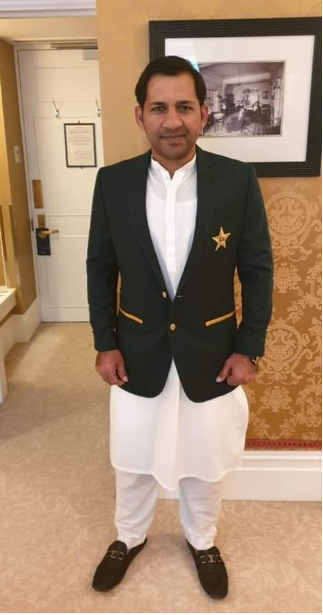 Sarfraz honestly looked classic in white crisp Shalwar Kameez followed by a dark green blazer. Some insane minds couldn't understand the patriotic act of our Skipper and tried to impose negativity over it. But the majority of Pakistani awam defended their national hero pretty well.
After the event, Sarfraz Ahmed talking to the media cleared all the forced controversy created on his appearance and he does make a lot of sense. Here's the whole video of the conference. Have a look!
Pakistani Skipper Sarfraz Ahmed talking to the media over the Shalwar Kameez fiasco!
'I was proud that I was wearing our national dress, while all other captains were dressed in suits' ? Sarfaraz Ahmed talks about meeting the Queen, and reveals what Prince Harry told him #WorldCup2019Video courtesy: ICC

Posted by ESPNcricinfo on Thursday, May 30, 2019
Being praised and then being defended shows the love Pakistan has for its National Team Captain. Their performances in the last matches against England and Australia may not have been great but the awaam still got their belief in the team. Wishing the team luck and all the best wishes for the World Cup and Insha Allah we will win. Keep chanting #DanaDanGreen!
Have something to add to the story? Let us know in the comments below!