This post is also available in: العربية (Arabic) اردو (Urdu)
Recently, in an interview with Hum News which featured Pakistani journalist Nadeem Malik, former president of Pakistan, Pervez Musharraf, stated that JeM made an effort to end his life. He also said that in 2004 there was an attempt to silence him for life but he thankfully had his life saved.
Here's the full conversation
جنرل پرویز مشرف پر جھجڈا چیچی میں حملہ کس نے کیا ؟#NadeemMalikLive #Pakistan #HUMNews pic.twitter.com/3PI6WYzJq1

— Nadeem Malik (@nadeemmalik) March 5, 2019
After the interview, the tweet below was shared in an attempt to gain Reham Khan's attention who's a British Pakistani journalist and the former wife of PM Imran Khan.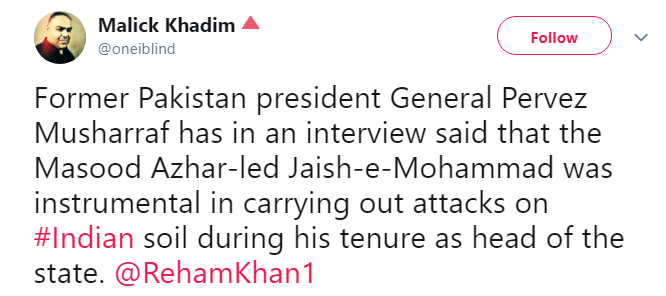 Khan usually responds and reacts on all the current events, so our guess is that this user wanted her opinion on the entire interview that went down between Musharraf and Malik!
Reham Khan has been in the news since the story of her wedding to Imran Khan broke out. Her behavior has since bemused and often flabbergasted people. Reham Khan is that one person who's always been under the limelight and somehow or the other she gets dragged in the matter.
Right after the above tweet was shared, Reham Khan responded with this: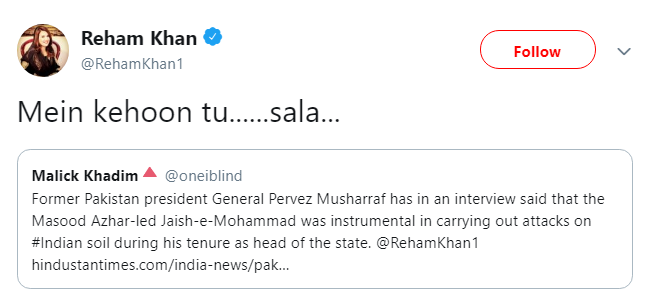 Once Khan shared her tweet, there was a massive response from people and the responses were quite interesting.
This user really mocked her
'Character dheela hay' fits you like a glove.

— Syed Yasin Shah?? (@yasinshah) March 7, 2019
Another user just went ahead and did this!
Tmara dheela hai sb ko pata hai batanay ki zrorat nahi ? pic.twitter.com/qYBPIl3RoF

— Major Adnan sami (@for69501702) March 7, 2019
Har cheez mein aaj kal undercover Adnan Sami aajate hain!
Thanks to Major Adnan Sami and agent Reham Khan our 2 best undercover officers. ???❤️

— Osama Arif (@OsamaAr87700984) March 7, 2019
Wow! Look at that…
Lekin haqeeqat mei

Tmhara character buht hi dheeeela ha …..

Ab to extra ordinary dheeeeela ho chuka ha….

— Muhammad Azeem (@Muhamma16446980) March 7, 2019
That's a lot of rage coming through various users
you should be black listed from entering Pakistan why we need enimies when we have ppl like you?

— Ibrahim.Y (@ibbikoker) March 7, 2019
Umm…
You and @AdnanSamiLive are worms of gutters who are being cursed by the Pakistan Community. Both of You can change your loyalties just for meagre reasons then how can you both be sincere with Indian. Indian stupids must observe it.

— Kaleem Mahar (@Kaleemrp1) March 7, 2019
Just after her book was published which was supposed to be an autobiography but that turned into slaying IK's character. Khan just flew from Pakistan and never missed a chance to flaunt the fact that she's an epitome of perfection (at least that's what she believes).
Moreover, according to research, upon growing up, and being a working woman, she had a really hard time at the workplaces, especially BBC North, where according to her, women used to be jealous of her, because of her looks. She believed that the world was a tough place for women who were attractive.
Let's see what's more to come from Reham Khan and what sorts of drama she brings to the table. The masses really don't leave a single opportunity to roast her. If you have something to add to this story, let us know!