In an audit of private schools, Justice Ijazul Ahsan expressed shock at their profits per year, says, "No business other than drugs can bring in such profits".
One of the private educational institutes is recorded to make as much as Rs353 million in a year. Justice Ijaz has taken notice of an increase of 36 percent every year in profits and expressed an immediate action on imposing a limit on the elevation in the fee.

Chief Justice of Pakistan Asif Saeed Khosa heading a three-member bench resumed hearing of the case on Wednesday. He has advised the schools not to obtain a license if they cannot comply with the regulations and resort to other businesses. He observed that private educational institutions have become a profit minting industry.
"Depriving children of education is a national security issue.", Says Justice Ahsan
CJP notices implications and recommendations issued by the court regarding this matter, however, it is not the law and said, "The court cannot see things on the basis of recommendations but on the basis of law"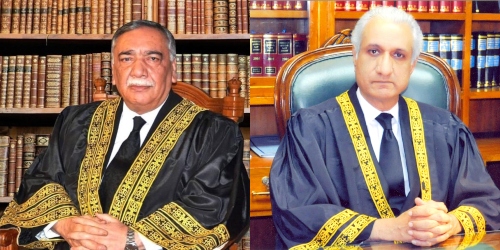 Justice Ahsan mentioned that the law is not active for schools charging a fee under 4,000 rupees and for the ones above 4,000 marker can increase it by 5% only.
"Private Schools are not affordable for the poor and I am concerned about their talent going to waste", Chief Justice
Chief Justice in response to the council stating their arguments said, "Private schools are not affordable for the poor masses even if they cut their fees. The good old government schools from which we received education have lost their standard. These days, government schools are being used as farmhouses by the feudal lords."
He continued saying, "I am concerned about the poor children whose talent is going to waste. My annual fees at Government College of Lahore was Rs144 while fees in my primary school at DG Khan was only Rs1.50. By the grace of God, we have not lagged behind in any field. The private schools have turned into profitable industries. We have no objection if the private schools make halal earnings."
Every parent no matter what the financial background wants the best education for their kids. There are families that invest a large amount of their hard earned money in private schools so their children have better chances at a brighter future than they had. The private school mafia needs to stop increasing their fee to the point that parents are forced to withdraw their children and enroll them in government schools where the educational standard is very poor.