This post is also available in: العربية (Arabic) اردو (Urdu)
It seems that the long-running 'Nawaz Sharif Saga' has finally come to an end!
THE NAB COURT'S DECISION ON AL-AZIZIA AND FLAGSHIP REFERENCES!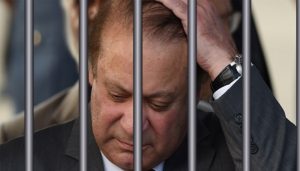 Verdict: NAWAZ SHARIF JAILED FOR 7 YEARS IN AL-AZIZIA REFERENCE, BAIL GIVEN IN FLAGSHIP!
It All Started When Nawaz Sharif Was Proven Guilty In Panagate Case
Following the directions of Supreme Court of Pakistan in the landmark Panagate Verdict which disqualified ex-Prime Minister Nawaz Sharif for life, National Accountability Bureau (NAB) in September 2017 filed three references against Nawaz Sharif regarding Avenfield Properties, Al-Azizia, and Flagship Investment.