This post is also available in: English (الإنجليزية) اردو (الأردية)
It seems that the long-running 'Nawaz Sharif Saga' has finally come to an end!
THE NAB COURT'S DECISION ON AL-AZIZIA AND FLAGSHIP REFERENCES!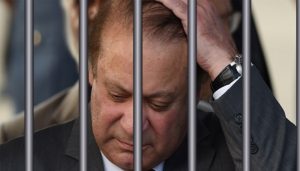 Verdict: NAWAZ SHARIF JAILED FOR 7 YEARS IN AL-AZIZIA REFERENCE, BAIL GIVEN IN FLAGSHIP!
It All Started When Nawaz Sharif Was Proven Guilty In Panagate Case
Following the directions of Supreme Court of Pakistan in the landmark Panagate Verdict which disqualified ex-Prime Minister Nawaz Sharif for life, National Accountability Bureau (NAB) in September 2017 filed three references against Nawaz Sharif regarding Avenfield Properties, Al-Azizia, and Flagship Investment.
He Along With His Daughter And Son-In-Law Got Arrested In Avenfield Properties Reference
In July 2018, Justice Mohammad Bashir of the Islamabad Accountability Court jailed Nawaz Sharif, Maryam Nawaz, and Captain(R) Mohammad Safdar for ten years, seven years and one year respectively in the Avenfield Properties reference. Later on, Islamabad High Court granted them bail after suspending the sentence on September 2018.
For The Other Two References – Al-Azizia, and Flagship Investment, Supreme Court Will Be Giving The Verdict Today!
Nawaz Sharif has arrived Islamabad from Lahore in the morning for the verdict which will decide his fate. On the other hand, Maryam Nawaz has tweeted for the first time in five months in which she prayed for her father and late mother Kulsoom Nawaz.
The last time I saw HER was in the coffin. The last time I saw HIM smile was with HER. May Allah have mercy on both of you. Ameen ??♥️ pic.twitter.com/q5hlws8rf6

— Maryam Nawaz Sharif (@MaryamNSharif) December 23, 2018
Maryam Nawaz updated her Twitter's account profile picture as well!
#NewProfilePic pic.twitter.com/UkUboYGhqI

— Maryam Nawaz Sharif (@MaryamNSharif) December 23, 2018
PML-N leaders are standing with their chief.
نواز شریف کا 9 سال مشرف نے احتساب کیا 2 سال سے پاناما کے نام پر کڑا احتساب ہو رہا ہے -مجھے خوشی ہے کہ ہمارے لیڈر کیخلاف سرکار کے کاروبار میں 1 پیسے کی کرپشن کا کوئی کیس نہیں-مرحوم والد کے کاروبار پر نام نہاد احتساب ہو رہا ہے- نواز شریف کا قصور عوامی مینڈیٹ سے کرپشن پر آواز اٹھائی

— Ahsan Iqbal (@betterpakistan) December 24, 2018
Maryam Nawaz and her husband were accused in Avenfield Properties Case only while Nawaz and his sons are accused in all three cases.