This post is also available in: العربية (Arabic) اردو (Urdu)
On 27th March 2019, Indian Prime Minister Narendra Modi announced the successful conduction of anti-satellite missile test 'Mission Shakti'. India is the fourth country in the world after the United States, China, and Russia to have demonstrated this capability. According to the details, Indian scientists knocked down their own live satellite at a low-earth orbit, the satellite was in orbit at 300 kilometers when it was smashed. Narendra Modi congratulated Indians in a television address and claimed that we have been registered in the list of 'space superpowers'.
But the head of the National Aeronautics and Space Administration (NASA) Jim Bridenstine has branded India's Mission Shakti a 'terrible thing'. Addressing to employees of NASA, Jim said that India's ASAT created '400 pieces of orbital debris and led to new dangers for astronauts aboard the International Space Station (ISS)'
Jim Bridenstine Said In His Address That The Activity Isn't Compatible With Future Of Human Spaceflight!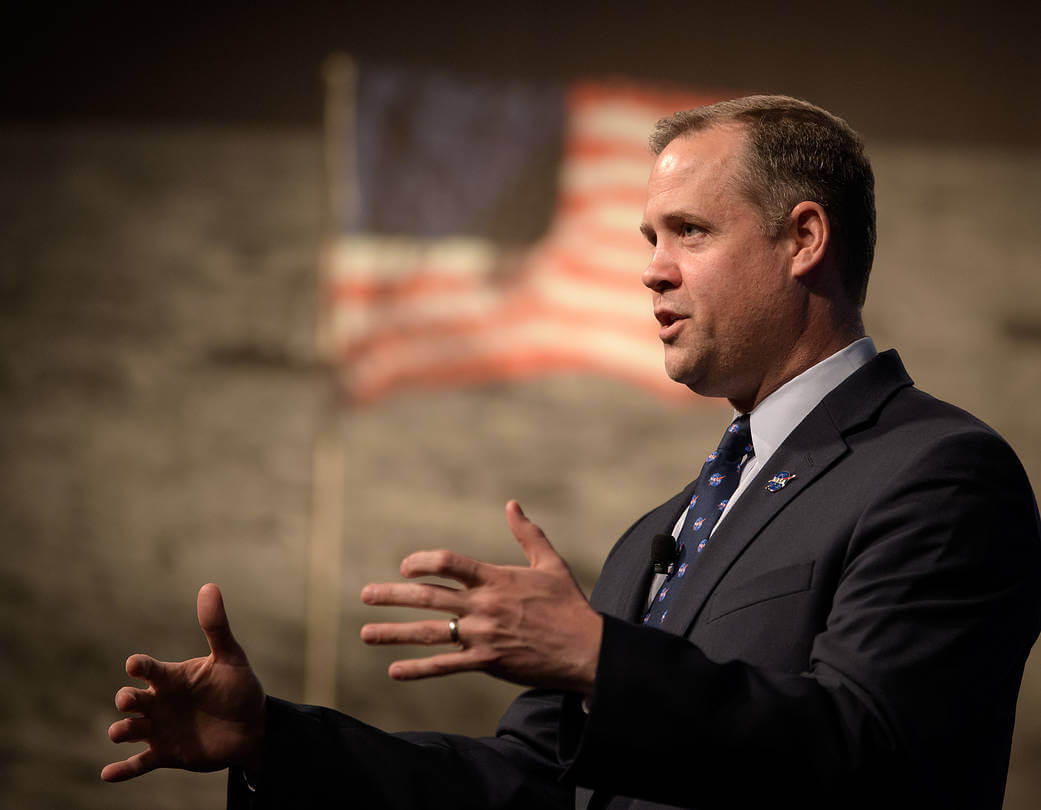 "Not all of the pieces were big enough to track. What we are tracking right now, objects big enough to track – we're talking about 10 centimeters (six inches) or bigger – about 60 pieces have been tracked. But 24 of the pieces are going above the apogee of the International Space Station. That is a terrible, terrible thing to create an event that sends debris at an apogee that goes above the International Space Station. That kind of activity is not compatible with the future of human spaceflight."
With the amount of space debris produced by India's test, the risk of collision with ISS has increased by almost 44%. The rivals of Modi Sarkar are claiming that this is another political tactic as a few months are left in General Elections in India. Soon after the statement by NASA Administrator, people on social media started criticizing India and NASA both for the debris they have created before!
Here Is How Netizens Are Reacting To India's Mission Shakti
Baat Tou Sach Hai Magar Baat Hai Ruswai Ki…

HAHAHA!

Chowkidar Guru Has Some Valid Point!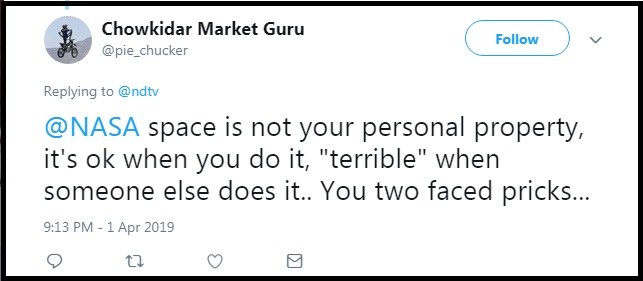 So, It Was A Sensible Comment In Start…

However, the report suggests that much of the debris produced by this test will be puffed up as soon as it enters the earth's atmosphere. The social media users are not only criticizing the Indian Space Research Organisation, but Narendra Modi is also under criticism for alleged political used of airspace. Well, this is not the first time that Modi politicized an event, we do remember his stance after Pulwama incident.
Instead of sympathizing with the families of the Indian soldiers who lost their lives in Pulwama incident, Narendra Modi and other BJP leaders politicized it and started calculating the number of seats in Lok Sabha. The contravention of Pakistan's airspace was a political stunt as well as he himself said in a public meeting that air strike in Pakistan was also necessary. Mission Shakti seems another trick of Modi to increase his vote bank.
Do you want to add more to the story? Share your thoughts with us in the comments!
Read Also: Pakistani Female Scientist At NASA Pride Of Our Nation