The tension between Pakistan and India have been escalating after Pulwama terror attack. On 27th February 2019, when Indian jets tried once again to enter Pakistani airspace, Pakistan Airforce knocked them down and took Indian Wing Commander Abhinandan Varthaman in the custody. Indian government and media have completely changed their stance of taking revenge from Pakistan, their anchors are now demanding the release of IAF pilot and peace between the two countries.
The statement of Karnataka BJP Chief Bookanakere Siddalingappa Yeddyurappa of politicizing airstrikes got him into trouble. Without being aware of the current situation, BS Yeddyurappa said that the airstrike would help BJP to win more than 22 seats in Lok Sabha.
Here Is The Complete Statement Of BS Yeddyurappa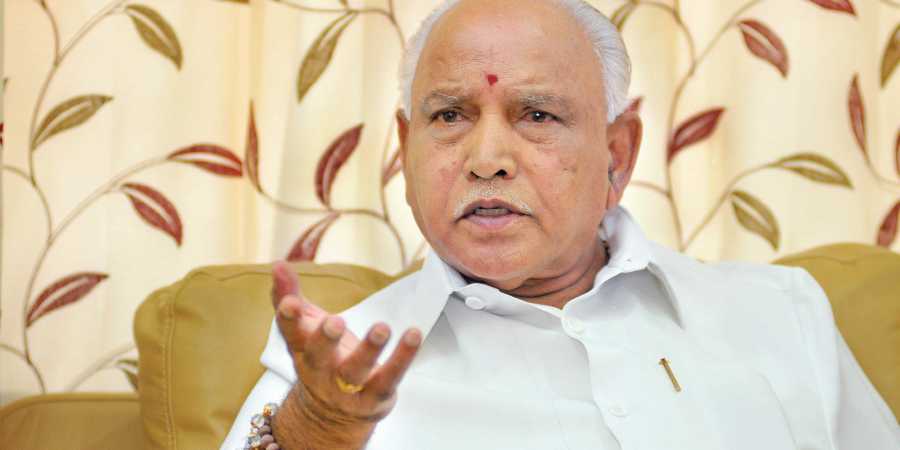 "The atmosphere….day-by-day the wind is increasingly blowing in favor of the BJP. Yesterday's action of eradicating terror hideouts by entering inside Pakistan has resulted in a pro-Modi wave in the country, the results of which can be seen in coming Lok Sabha polls. Just now we got news that a Pakistani jet which tried to enter our border has been chased back. Pakistan has been taught a lesson, after 40 years PM Modi has done it. PM said we'd reply to every drop of 'Khoon' of our soldiers and he has shown that today. Youth are celebrating; all this will help us in winning more than 22 Lok Sabha seats (in Karnataka)"
And when BJP Chief found the real facts, he criticized media for reporting his statement 'out of the context'
When Pakistan Airforce Took IAF Pilot Abhinandan Into Custody, BJP Chief Tweeted That His Statement Was Taken 'Out of The Context'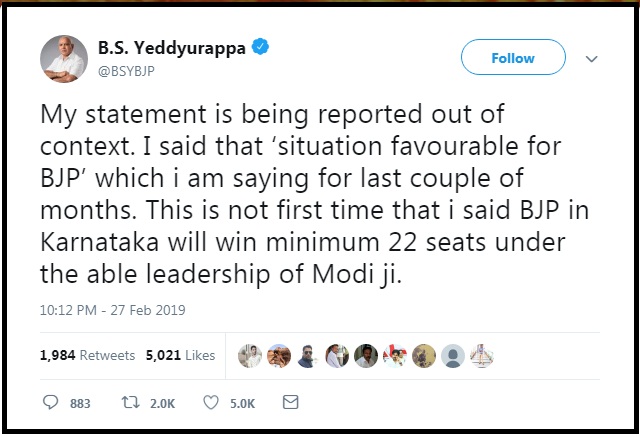 "My statement is being reported out of context. I said that 'situation favorable for BJP' which I am saying for the last couple of months. This is not the first time that I said BJP in Karnataka will win a minimum of 22 seats under the able leadership of Modi ji"
BS Yeddyurappa's statement has redoubled the criticism of opposition parties on the ruling party of India. 21 parties in the opposition-held BJP responsible for blatant politicization of IAF. Karnataka Chief Minister KD Kumaraswamy said in his tweet that instead of supporting IAF, BJP is busy in calculating how many seats they will get in Lok Sabha.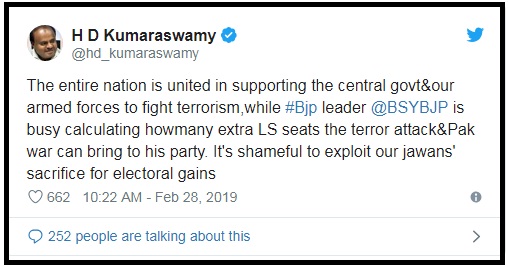 BJP Chief BS Yeddyurappa is not the only one who is busy in calculating his seats. Controversy Queen Rakhi Sawant's video on fake surgical strike was making rounds on social media in which she praised Narendra Modi for taking revenge of Pulwama incident. After admiring the bold step of BJP government, Rakhi urged people to vote for Narendra Modi in next elections as he is the one for India.
Here Is What She Said In Her Video!
Although she has disappeared from social media, her fans are waiting for another video where she would talk about IAF pilot Abhinandan Varthaman.
Since the Wing Commander Abhinanand has been set to be released tomorrow, let's see how other BJP ministers would change their statements!