This post is also available in: العربية (Arabic) اردو (Urdu)
On Tuesday 26 February, Indian planes entered the Line Of Control (LoC) from Muzaffarabad sector and left the border after harming a few trees (LOL). Director-General Inter-Services Public Relations Major Asif Ghafoor said in his tweet that the timely and effective response from Pakistan Airforce ended up releasing pay load in haste which fell near Balakot while the aircraft were seen escaping from the border. Major Ghafoor added that no damage occurred in the Indian aircraft intrusion.
On the other hand, the political leadership of Pakistan responded to the false claims of the Indian airstrike as well. At a hurriedly called special meeting of National Security Committee (NSC), they vowed to respond at the time and place of its choosing. Prime Minister Imran Khan asked the armed forces and people of Pakistan to get prepared for all the 'eventualities'.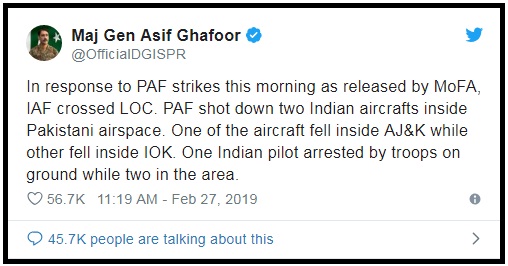 On Wednesday, Indian jets once again tried to enter and this time Pakistan Airforce knock down those jets! DG ISPR shared all the details in his media talk. "Two Indian jets entered Pakistani airspace. PAF was ready to face them and took down two of their aircraft. One fell in our space, another on their side. Two pilots were taken into custody. One of the pilots was injured and has been taken to CMH. He will be given proper care. Another is in our custody", said Major Ghafoor.
Haven't Indian Pilots Read About MM Alam Before Coming To Pakistan? We Wish They Would…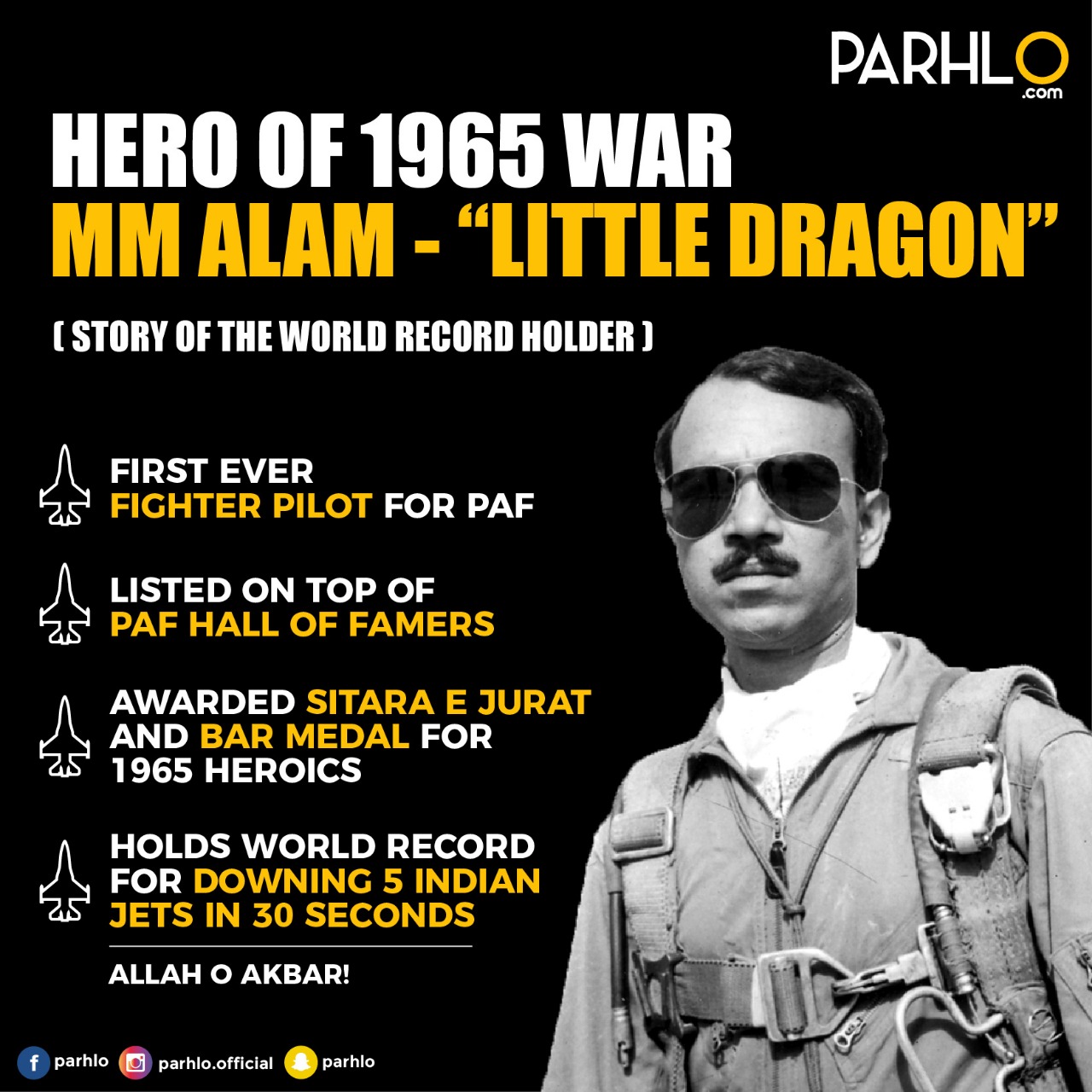 On 6th September 1965, during aerial combat over the region of the enemy, Squadron Leader Mohammad Mahmood Alam, the pilot of an F-86 Sabre Jet, took down two rival Hunter aircraft and disfigured three others. On 7th September 1965, in a number of interception missions flown by him against the enemy aircraft striking PAF Station, Sargodha, Squadron Leader Alam harmed five more enemies Hunter aircraft in less than a minute, which remains a record till today. This means, MM Alam, altogether hit 11 aircraft and downed 5 aircraft in 60 seconds; one aircraft every 12 seconds! For the exceptional flying skill and valor, he was awarded Sitara e Juraat!
During an interview, Muhammad Mahmood Alam said, "This was my wish from the childhood to become a soldier and defend my country and to be a fighter pilot and with the grace of God I succeeded in my mission and joined PAF (Pakistan Air Force). Some facts of Islam and jihad always remained in my mind which I remember every time during 1965 war"
On 18th March 2013, MM Alam passed away after battling protracted respiratory illness for months. 'Little Dragon' was the nickname given to MM Alam by his fellows for his bravery. His name will be written in the letters of gold as he was the true patriot who sacrificed his life in the love of his dear homeland, Pakistan. His name will be remembered forever whenever we talk about 1965. May his soul rest in peace, Ameen.
It is 2019 and to take the revenge of Pulwama incident, India once again tried to enter Pakistani airspace but the brave soldiers of Pakistan Air Force took the responsibility of protecting the homeland and following the footprints of MM Alam. They did it!
Pak Fauj Zindabad, Pakistan Paindabad!