This post is also available in: العربية (Arabic) اردو (Urdu)
The labeled father of Taliban Maulana Sami-Ul -Haq was assassinated on Nov 2, 2018. He was the leader of Jamiat-i-Ulema Islam-Sami (JUI-S) and was stabbed multiple times at Bharia town Rawalpindi. He lost excessive blood due to numerous stabbing and was declared dead at the safari hospital.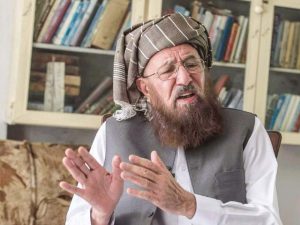 Recently, the secretary of Maulana Sami ul Haq went missing for the last 4 days from his house. Although Police denies having him in their custody, his family has claimed that he has been picked up by security agencies. The secretary, Syed Ahmed Shah, is also believed to be the first one to discover Maulana's body and to inform the death of Maulana Sami ul Haq to his son.
Besides, Syed Ahmed Shah, in his initial statement said that he left maulana on a bed and when he came back he found him dead though he had locked the door from outside. In addition, the secretary told in his recorded statement that he came back after 15 to 20 minutes.
Maulana Sami ul  Haq was born on 18 December 1937 in Akora Khattak and was one of the eminent religious scholars of Pakistan. He remained a senator for two consecutive terms from 1985 to 1997. Maulana Sami ul Haq also comes in the list of the founding members of Muttahida Majlis e Amal.
Maulana Hameed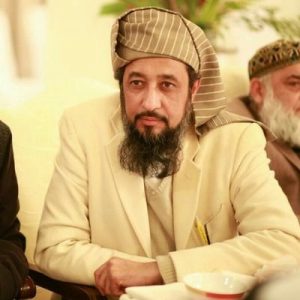 According to Maulana Hameed, son of Maulana Sami ul Haq, Syed Ahmed has been missing and his phone is not responding from last 4 days. He added, Syed Ahmed may have been taken by law enforcement agencies or he may have deliberately gone hidden.
Maulana Hamid told the Dawn News, "No one has stopped the police from investigating Ahmed Shah or anyone else they wanted. We had no enmity with anyone but people from the outside or inside could be involved in the murder".
Maulana Sami Ul Haq often referred to as the father of the Taliban owing to his connections with them. He was the man who was used many times in the peace process talks between Taliban and the USA. Maulana Sami had said that the US Ambassador to Pakistan, Richard G. Olson told him, "Give them just one year and they will make the whole of Afghanistan happy… The whole of Afghanistan will be with them … Once the Americans leave, all of this will happen within a year… As long as they are there, Afghans will have to fight for their freedom."
Maulana Haq and US Ambassador Richard Olson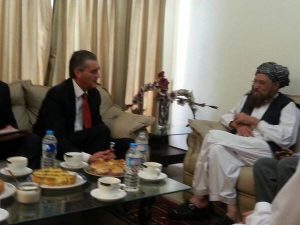 The sudden missing of the secretary, Syed Ahmed has raised many questions. However, police and other law enforcement agencies are investigating the matter holistically.