This post is also available in: العربية (Arabic) اردو (Urdu)
The International Cricket Council (ICC) Cricket World Cup takes place every four years. After 2015, its finally gonna happen this year and cricket fans are unable to contain their excitement. The gentleman's game has taken over the world with its fulfilling spirit and the game lovers are waiting anxiously for the event to start. This will be the 12th edition of the event and is said to be hosted by England and Wales. The event is said to be started by the 30th of May and will end by the 14th of July.
Since the evolution of cricket in Asia, Pakistan and India became 'rivals on ground' too. Because of the ferocious rivalry, people from both sides of the border get to experience some nail-biting battles on the pitch. With more than 288 million views, ICC Cricket World Cup 2015's match between Pakistan and India is the second most watched game till now.
As it is said that politics can ruin anything and everything, it did happen with the Pakistan Cricket Team. Several cases have been on board showcasing the immense power of politics that can end well-stabled cricketing careers.
Last week, Pakistan Cricket Board (PCB) announced the squad for this year's World Cup. The fast bowlers in the final squad included Hasan Ali, Shaheen Shah Afridi, Mohammad Hasnain, and Junaid Khan. Pakistanis were overall not satisfied by the fact that Mohammad Amir is not in the World Cup squad.
This was the whole squad till last week!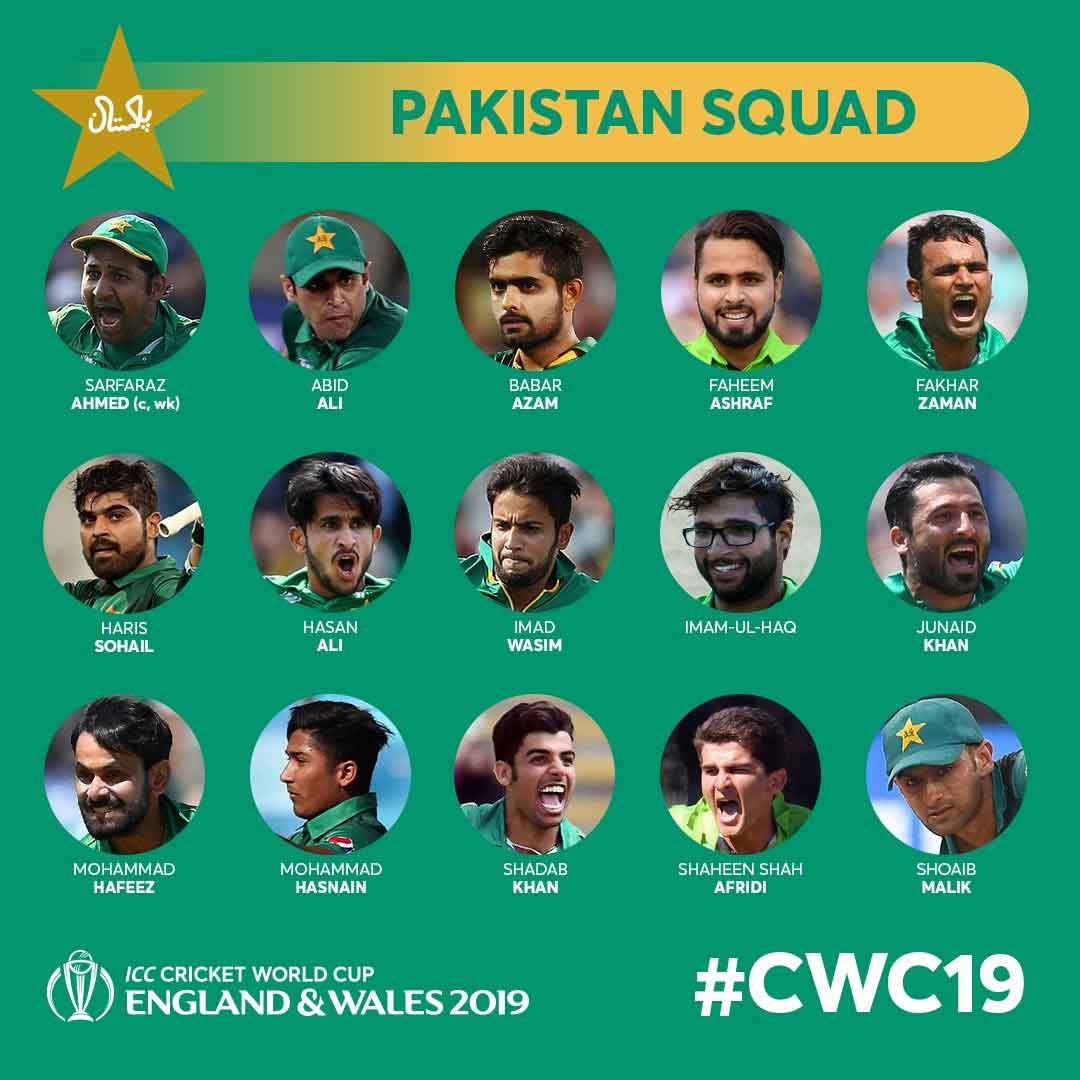 However, yesterday the tables totally turned as the officially revised and final squad for World Cup was released. The PCB dropped Abid Ali, Faheem Ashraf, and Junaid Khan whereas, Mohammad Amir, Wahab Riaz, and Asif Ali were added to the squad. Where cricket fans were happy to have Mohammad Amir in the World Cup squad, many were disappointed to see Wahab Riaz replacing Junaid Khan.
Also read: Nation Overjoyed As Glory Days Of Pakistan Cricket Return
Here's the official final squad announced by the PCB!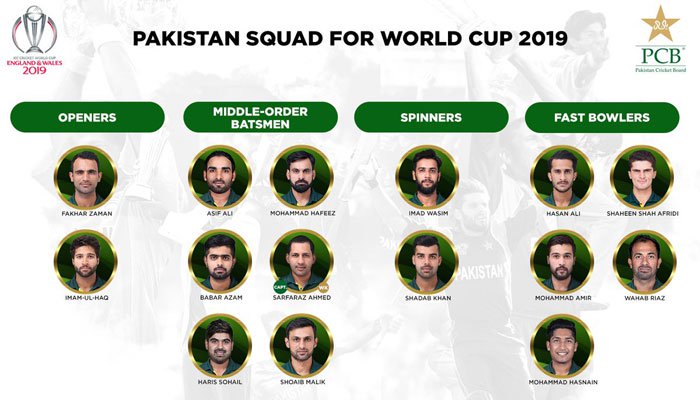 After the final names were announced, Junaid Khan posted a picture on his official twitter handle and it steered a new controversy among the masses. Fans were all divided and some even criticized the PCB selection board.
Posted by Junaid Khan after the final selection!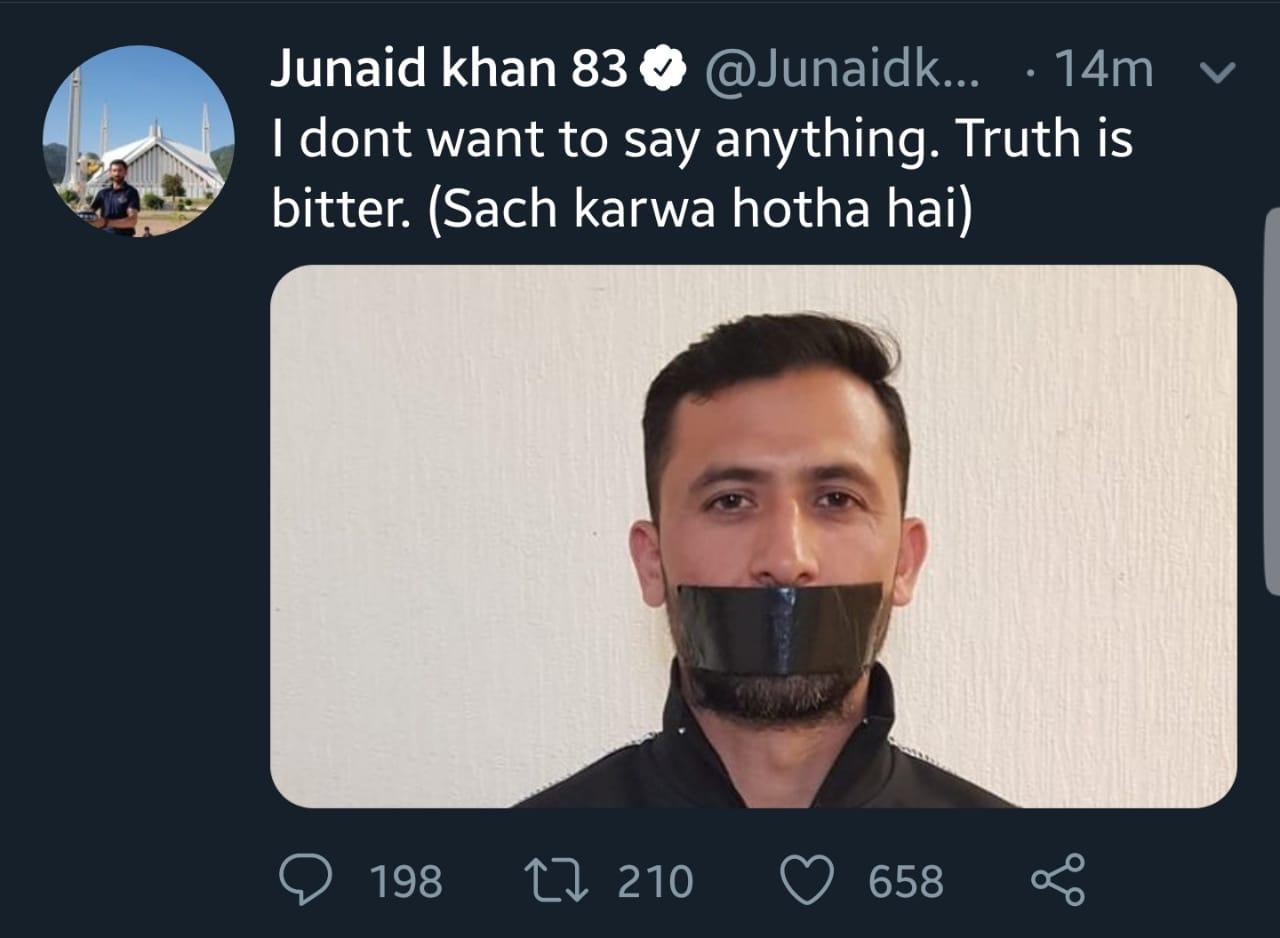 This tweet was in reaction to him being dropped from the World Cup squad. The fast bowler basically recorded a silent protest against PCB and displayed his rejection on the decision. The controversial tweet made many eyes pop out and it was taken as an indirect hit on PCB and its selection board. Pakistani cricket fans are now having divided opinions on the matter and awaiting an official statement by the concerned board.
We want Justice for #JunaidKhan ko wapas lao ?

— Syed Rehan Rohi (@SyedRehanRk75) May 21, 2019
People are calling it ziyadti
Ramiz bhai ziyadti to hwi hai junaid khan k sath….

— ARSALAN MAHMOOD (@arsalanmahmood4) May 21, 2019
Do you agree with this?
Not only #Cricket but this #Parchi mafia has ruined almost every institution of our beloved Country ?????#JunaidKhan

— Ahmed (@mann_faqeer) May 21, 2019
He was deserving!
not against wahab … but Junaid khan deserve the play WC

— zak (@zak86969329) May 21, 2019
Uh, oh.
IF WE WANT TO BRING BACK #JunaidKhan WE SHOULD BYCOT #WahabRiaz IN THE #ICCWorldCup
#HUMSABKHAMOSHHAIN

— JUtt SaHAb (@zunijutt12) May 21, 2019
Justice for Junaid Khan
#JunaidKhan
Again favouritism is on its peak #JusticeForJunaidKhan https://t.co/loilUut0Li

— Akber Khan (@akberkhanmak) May 20, 2019
For now, everyone's hoping for an exceptional performance by Pakistan in the upcoming World Cup.
Liked this story? Let us know in the comments below!