This post is also available in: العربية (Arabic) اردو (Urdu)
Mr. Fawad Chaudry who is always making viral headlines throughout the Pakistani media for his outspokenness and a raucous spree of words is now facing the music of own harp after all his claims regarding the shuffling of Prime Minister Imran Khan's Cabinet were reduced to vapors…
Pakistan Tehreek-e-Insaf's (PTI) front line gladiator who would never skip any chance to bring embarrassment to his opponents could be seen these days stuck in the swirl of backlashes and criticism; the major reason to this seems to be his statements from the past which did not complement the reality later…
And guess what… PTI's Kung Fu would never hesitate to go personal against their rivals.
The enemy of today could be your ally tomorrow…
Someone said it so true that the dushman of today could be your ally tomorrow… But, how would our ex-Minister of Information and Broadcast learn to implement these words of wisdom who hates to think twice before pressing the trigger; forgetting that if he is not circumspect, he could end up with a nasty bruise…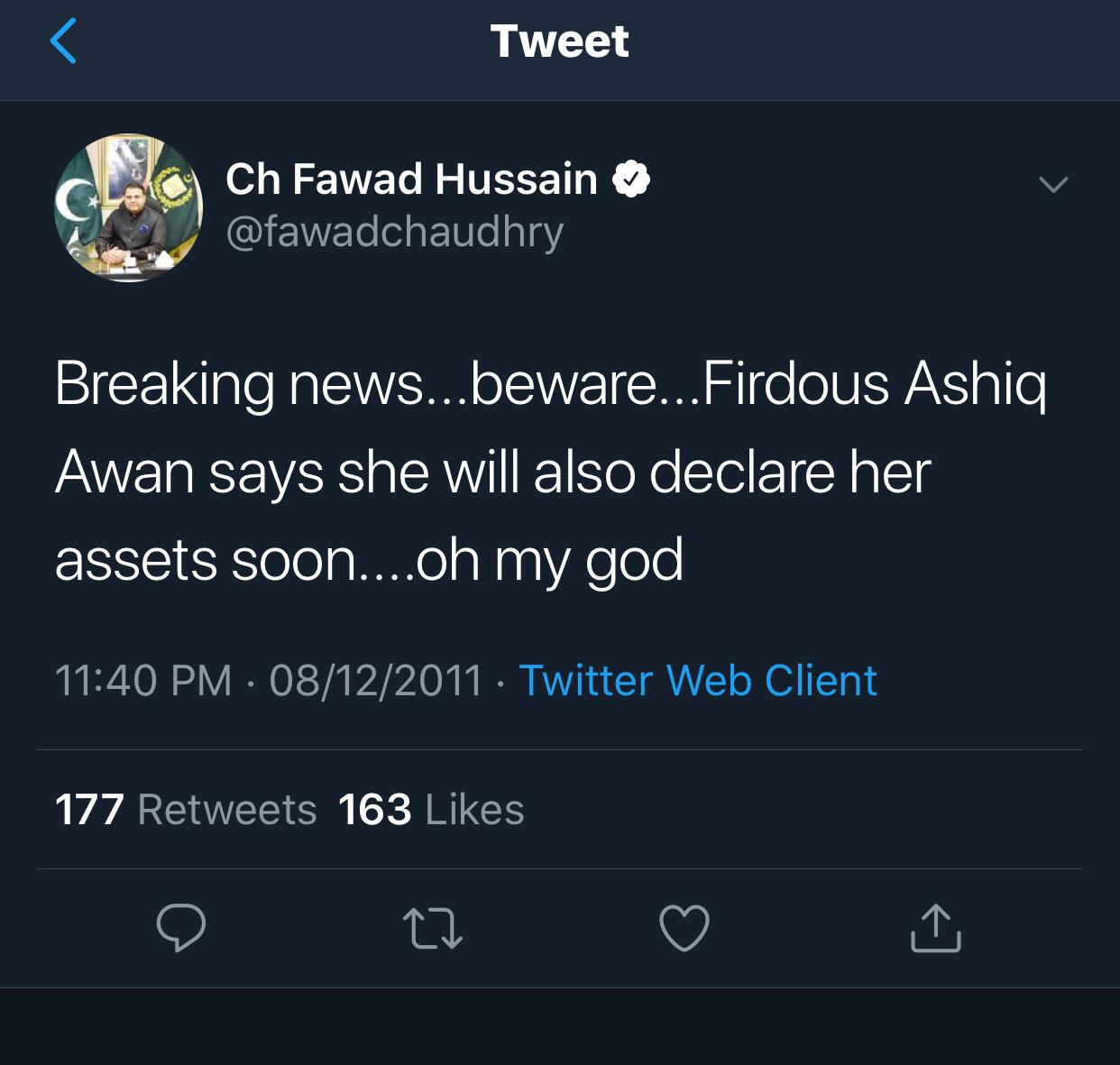 A very exclusive example of this is his famous exchange of fire with Firdous Ashiq Awan that occurred in December 2011. And much to his displeasure, Firdous who had performed the duties of Minister Information and Broadcast in PPP tenure has just ousted Fawad from the very position…
Karma is really a b*t*h!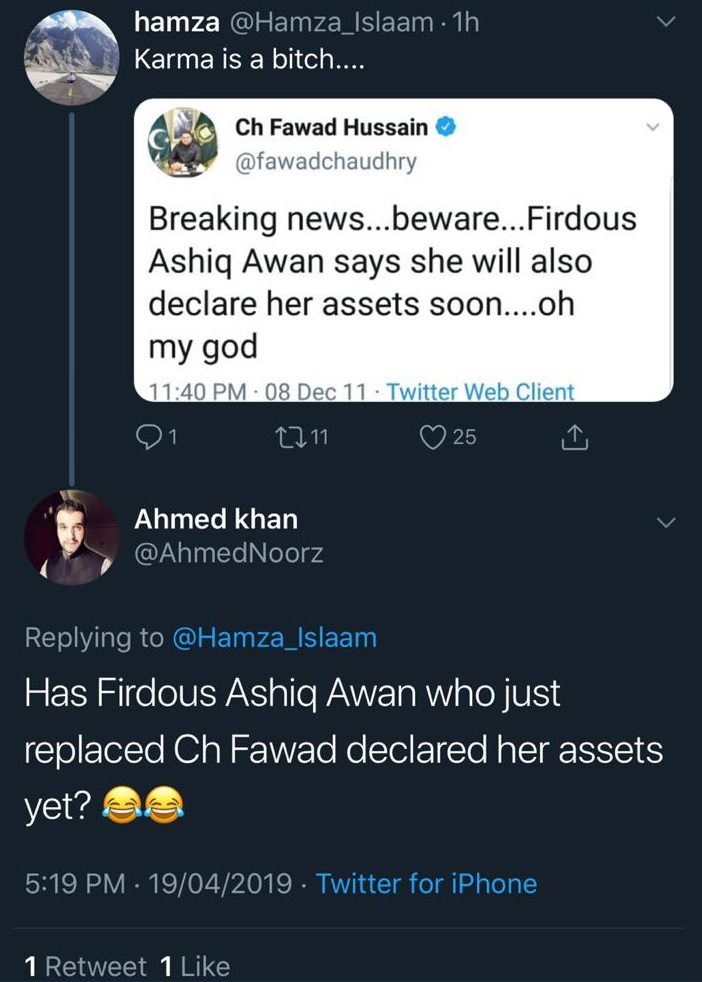 Due to embarrassment or something else, though the tweet was later deleted on  April 19, 2019, we are not perfectly sure with what he originally meant with the term 'Asset' here. But, the demeanor did not sound much appropriate… At least not fitting to what one would expect from a person bearing such crucial responsibilities…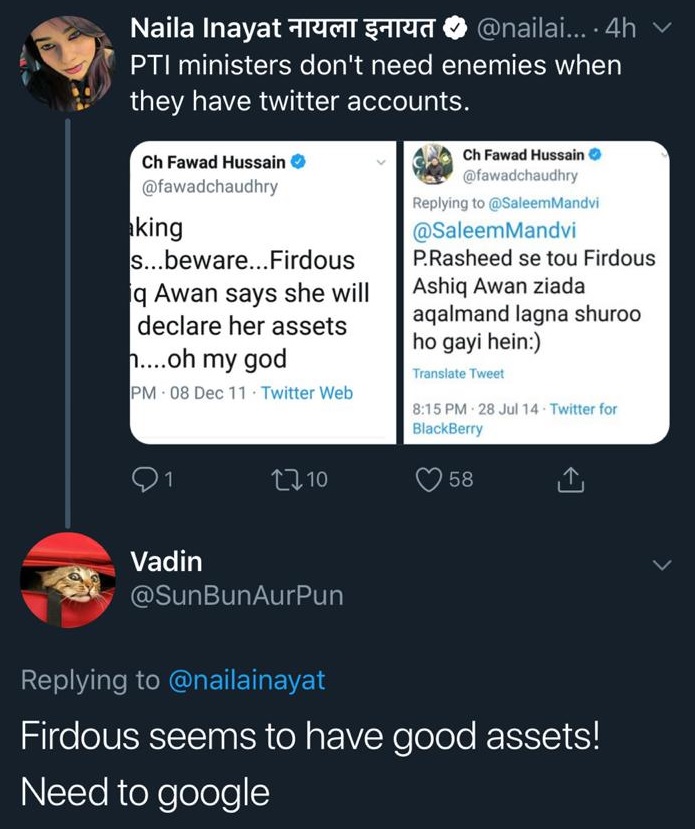 Fawad is a proud pro… Not so wise though!
And this is not the only occasion where Fawad couldn't hold his horses… Previously, while praising cricketer Yasir Shah on his performance, he out of nowhere dragged Sherry Rehman on Twitter and said that she has already honed in the waste bin of the history…
So happy for #YasirShah you made us proud boy, come on Pak media give this legend his due whats the fun in showing a presser of reminants of past like @sherryrehman she has zero contribution to the people or society these people have already hone in the wastebin of the history

— Ch Fawad Hussain (@fawadchaudhry) December 6, 2018
Probably he was telling the media not to waste airtime for the people who have failed in their chapter of history but such spree of words coming from the mouth of a sitting information and broadcast minister certainly did not garner much appreciation…
Those comments about sherry rehman are not only incorrect but utterly unbecoming of you fawad bhai. This is uncalled for and offensive.

— Zarrar Khuhro (@ZarrarKhuhro) December 6, 2018
And someone offered him a bit of very sensible advice…
You need to exercise more maturity and restraint as the Information Minister.

— Shahbano Aliani شاہ بانو عالیانی (@shahbano_aliani) December 6, 2018
Picnic Boy in London… Really!?!?
Fawad stirred yet another controversy in December last year when he offered to voluntarily step down from his post in favor of Railways Minister Sheikh Rashid who during the 'off-camera' discussion, claimed that the prime minister had called him four times to deliberate on some important matter. Moreover, criticizing Chaudhry's the then trip to the United Kingdom, Rashid reportedly said that the minister was having a "picnic in London".
I will be more than happy to vacate my position for Sheikh Rasheed sb and serve as MNA, we all use trust powers bestowed by people of Pakistan and PM decides who is best fit in the role, However, till I am minister ll not bow to blackmailing of Advertisement lobby

— Ch Fawad Hussain (@fawadchaudhry) December 8, 2018
Not coming slow… Not at all!
But recently, Fawad has again openly declared that he would not sit at peace even if he is barred from the ministry… He said that he would now speak more blatantly to counter every cannon in his direction….
Precisely!! pic.twitter.com/JzQZ2sHhsB

— Fawad Chaudhry (@FawadPTIUpdates) April 19, 2019
Let's hope that this time around Mr. Fawad is tuned properly by his boss to focus more on his performance rather than toying with careless trickery of words…
Tell us in the comments section, what advice would you offer Mr. Fawad for his persistently careless selection of vocab…