Pakistan's flag is not just a piece of cloth but a symbol of patriotism, that reminds us of all the struggles after which we got independence. It's our national identity and represents its dignity and its greatness.
The nationals of this country might have several differences but we all stand united under this flag despite our cast, faith, and race. However, over the years the importance of our national flag has been replaced with the political party flags. Everyone seems to carry the green and white flag with sheer respect but only some mean it. Recently, our symbol of unity was been disrespected by PML-N workers dancing on the flag at Jaranwala Jalsa.
THE LOYAL WORKERS DISRESPECTING THE FLAG
#DunyaVideos: Charged #PMLN workers dancing on Pakistan flag in #Jaranwala @CMShehbaz @MaryamNSharif @AbidSherAli @Tallal_MNA @pmln_org #NawazSharif #DunyaNews #DunyaUpdates #SherOfJaranwala pic.twitter.com/mfVF4tPUUb

— Dunya News (@DunyaNews) January 27, 2018
Majority of the political parties are making a fool of the citizen with their only for publicity program and slogans. Each of the citizen since their birth have been listening to the same old promises done by different politicians at different places that never ever come true not even one of them.
It's hard to say where they find the audacity to be lying over and over again and then making their statements sound as if they were never said. They all carry the national flag on their cars and chest but none of them know the value of it. Pakistan Muslim League Noon has been doing politics for decades, but it seems like they haven't taught their workers how to respect the flag.
In their recent power show at the Jaranwala, their workers got so involved in dancing to the beats of their political parties song that they forgot to value their national flag. This was not the only instance when the flag was seen on the floor, after the jalsa ended, the people collecting the flag could be seen at different place carrying a bundle of it in their hands which pretty much sums up how the flag being carried by the patriotic workers.
HOW WOULD THEY RESPECT THE COUNTRY IF THEY CANT RESPECT THE NATIONAL FLAG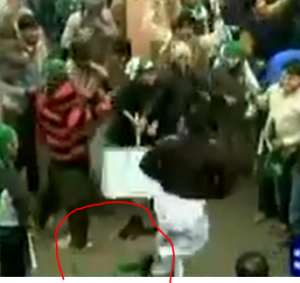 As per the news, the electricity that was provided for the jalsa was also taken from the school nearby. Maybe because the power show was of more importance. But its a point of concern that the party who guaranteed electricity is now themselves taking a connection from other places.
No matter what happens, it is our responsibility to respect our country and make sure that others respect it as well. Dancing on our flag doesn't create room for the latter, while we run from the former as well.