The hiking price of the dollar has left the entire state in shock. With stock market crashing, the dollar going up and various other economic crisis such as import goods' prices increasing, the Pakistanis continue to put all of this on the new government, which promised to bring prominent change in the first 100 days.
While all of this is due the economic crisis Pakistan is facing, PTI politician, who happens to be Punjab's Culture and Information Minister, Fayyaz ul Hassan believes that this all a conspiracy against the current government.
On National TV, Fayyaz Ul Hassan Made the Following Comments: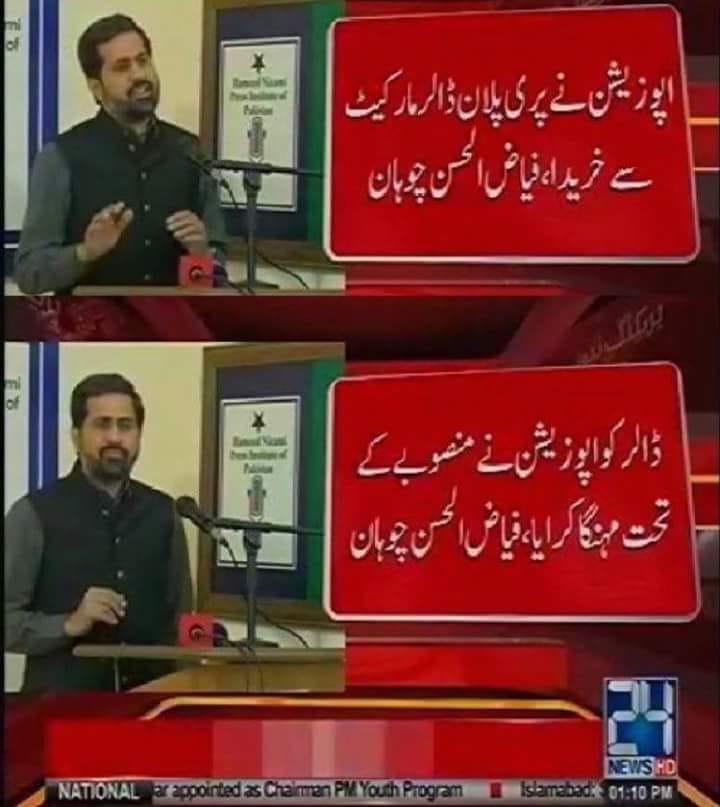 And Obviously, People Knew How Stupid this Logic Is!
Dude @ImranKhanPTI samajha inko. Har ball mid wicket ki taraf nahi kheli jati. pic.twitter.com/UpWguEr0zN

— SIR .. (@SirJohnRoe) October 10, 2018
And This Isn't the First Time Fayyaz Ul Hassan Did Something Out of the Ordinary
Previously made lewd comments on women, porn and other unethical subjects.
I think Fayyaz ul Hassan Chohan is not in his senses, Talking about porn movies and indecent stuff while addressing public gathering where females are also present. pic.twitter.com/2yFHdrSnoe

— Syed Raza Mehdi (@SyedRezaMehdi) August 29, 2018
LOOL
Pakistan Tehrik-e-Insaf, the gift that keeps on giving. Meet Punjab's new information and culture minister, Fayyaz ul Hassan Chohan. He got miffed with Samaa tv and left while hurling abuses at the anchor. pic.twitter.com/vhzuDZG346

— Naila Inayat (@nailainayat) August 30, 2018
And You Might Remember this From How Viral It Was
Khan Sb your attention is requested. Your Minister from Punjab Govt Fayyaz ul Hassan Chohan abusing TV Anchor and Channel Management in front of Camera. Scenes after Samaa TV's Show Awaz. ? pic.twitter.com/SDOyg640zW

— Syed Raza Mehdi (@SyedRezaMehdi) August 29, 2018
Anyway, at this point, perhaps PTI needs to hire an economics teacher who can teach the entire party some basic elements that are contributing towards this weak situation we are in. Essentially important for a politician to be aware of what he is talking about within his knowledge first, especially when on national TV.