The catalyst of change in Pakistan, Imran Khan, the incumbent Prime Minister, has finally gripped the government and hearts of the people of the country. The cricketer turn politician vows to bring a revolution in Pakistan, that is both unprecedented and unexpected.
Although every Pakistani craves for such a time, it is not very easy to take place. Rather, the uphill task demands mass diligence and refrain from vices that come along with the national administration. A week back, PM Imran Khan had announced the launch of Pakistan's first 'Pakistan Citizen Portal' where any Pakistani could upload his/her complaint directly to a cell set up to resolve their issues.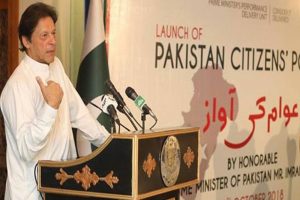 Khan said the idea to launch such a web portal was first of its kind in the country's history, interconnecting about 4,000 government offices. He said it was one of the manifestations of 'Naya Pakistan!'
Recently, somebody uploaded the first successful case of Pakistan Citizen Portal, and the notification's screenshot is thought to be going viral. The notification tells us that the case took place in Multan and is in regard to the Health Department, Government of Punjab.
An ordinary citizen of Pakistan, a doctor, had registered the following complaint on the Pakistan Citizen Portal: "Salam Sir! Medical company wale doctor ko apni medicine recommend kerne ke liye bohot ziada paisa gifts ki soorat mein dete hain jis ki wasooli wo company medicine se poori kerti hai jo patient ki jeib se nikalte hain aur medicine mehngi hojati hai. Isshay bhi control keren aur baaki Sir ap khud samajhdar hain main ziyada nahi likh raha Allah ap ki hifazat keren, Ameen!"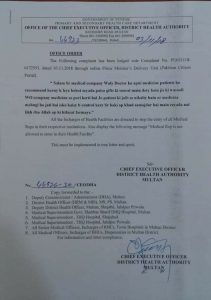 (Salam Sir! Medical representatives of companies provide doctors with their own medicine which is recommended to patients. The doctor in return is given money as a gift by the reps. This money is then extracted from the patient's pocket. Furthermore, this way, they control the price of medicine, rest you're intelligent enough to know. May God protect you, Ameen!")
The complaint from the portal was forwarded to the concerned person, who in this case, was the CEO DHA (District Health Authority) in Multan. The CEO then wrote his remarks as: "All those in charge of health facilities are directed to stop the entry of all Medical Reps in their respective institutions. Also display the message: Medical Reps are not allowed to enter their Health Facility." 
The notification is proof of what Imran Khan exactly planned. The Pakistan Citizen Portal is a shortcut and direct method for the common man to address his grievances to the government and bureaucracy. The success of this case proves that 'Naya Pakistan' is here in a unique fashion.