In the last 3 years, India has lost its credibility and has become a laughing stock for the entire world. The satire that our neighboring country started receiving after the Pak-India tensions took a pace recently, is purely hilarious. Fake surgical and airstrikes, false claims of downing Pakistani F-16's or be it the chaos created on the border, our neighbor has lied it all. Pakistanis in their country's defense have always motivated 'Mahan Bharat' by responding them with their humorous sarcasm.
As its elections season in India, Chowkidar Narendra Modi is in full swing throwing dirt on Pakistan every now then. Whereas, Pakistan has been a mature participant and has tackled the mediums really well. In April of this year, Pakistan's 150 esteemed trees were declared 'shaheed' in a so-called surgical strike made by India and Pakistanis were in sheer laughter.
Later that month, Pakistan Air Force (PAF) downed two Indian fighter jets who were trying to intrude in Pakistan's airspace. PAF's quick response resulted in the capture of Indian Wing Commander Abhinandan, who was first beaten by the locals and then was offered a 'fantastic tea' by the PAF.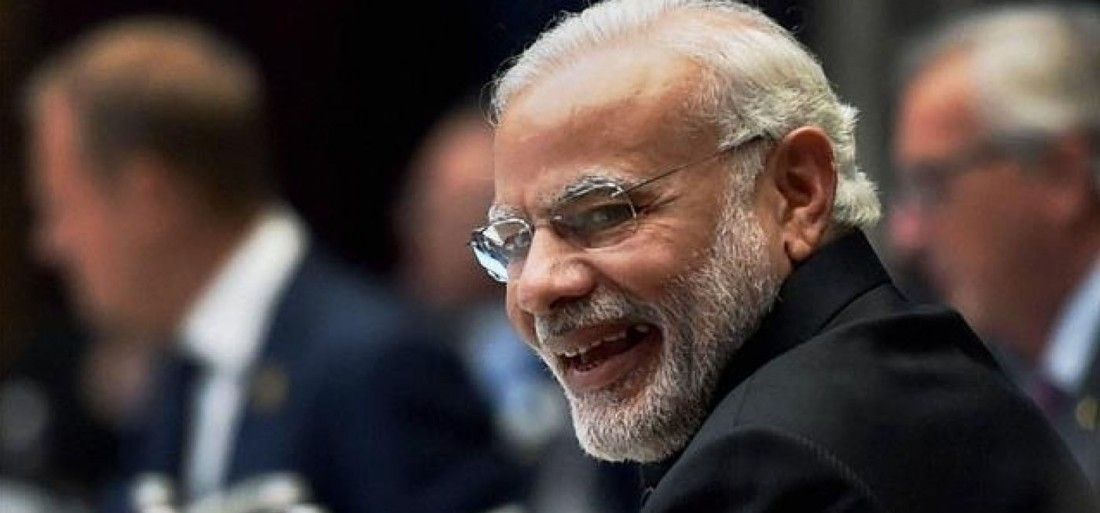 The Indian pilot was then returned back to India by PM Imran Khan as a peace gesture. To this act, Pakistan was praised all over the world and was labeled the peace ambassador whereas, India faced a massive backlash. Well, after a long break Chowkidar Modi is back at his comic role again and this time he made a joke out of his own country. Yesterday, in an interview to a local news channel, the Indian Chowkidar recalled the Balakot incident and said that the cloudy weather and rain could've prevented Indian fighter jets from being detected on Pakistan's radar system. The statement drew the world's attention and everyone's asking, really?
Here's a clip from the interview:
Here is the clip of #EntireCloudCover pic.twitter.com/ePsAyQTmYi

— Ankur Bhardwaj (@Bhayankur) May 11, 2019
As the interview came in, trolls started to surface the social media from both sides of the border. Severe sarcasm was made out of Modi's interview. Where Indians were furious, Pakistanis were in extreme giggles. Some tweets were way too funny to handle.
This fits best!
After escaping #Pakistani radars due to clouds, Endian prime minster #Modi orders his scientists to land a spacecraft on the sun at night to escape its melting temperature. ??#growupmodi pic.twitter.com/wkoZYCxsTN

— Ammar Abdullah ?? (@ammarabdullah01) May 13, 2019
Arz kia hai!
Mirza Modi#Modi pic.twitter.com/RjdecqMVvP

— Atiq Khan (@AtiqKha98353068) May 12, 2019
Disappointment! Disappointment!
Apart from proving that he is a fool, @narendramodi ji has brought shame to India in world stage!
And God knows what else he blabbered during his 5 years of foreign trips?#CloudCover #EntireCloudCover #RealPappuModi @Actor_Siddharth

— Joseph Pravin (@JosephPravin18) May 12, 2019
The best description!
Who did this?
???#cloudcoverradar #CloudCover #airstrikes #NarendraModi pic.twitter.com/OZNTDyETQv

— Bobins Abraham (@BobinsAbraham) May 12, 2019
Bollywood, you know! *phew phew*
Suggested name if they make a movie on the last 5 years of Indian Government:

"Cloudy with a chance of Rafale"#CloudCover

— Sourya Banerjee (@JoeBanerjee) May 12, 2019
Chalo mitron!
Duggal sa'ab aaj #Radar ko chakma denge hi denge.. Plane ko road se le jaenge taaki Radars ko lage Bus aa rahi hai.. #CloudyModi #CloudStrike #CloudCover #ModiLies @SaralPatel @RuchiraC @tehseenp @HasibaAmin pic.twitter.com/CKhd2sQRfB

— Dr. Mayank Puri #AbHogaNYAY (@BeingMayank_doc) May 13, 2019
Maybe Chowkidar Modi made a blunder and called 'Rafale' as 'Radar'? Well, whatever the scenario be, a cloud cannot save anyone from filthy intentions. These type of stupid statements have kept Modi in the danger zone before as well and now it has become difficult for his party to gain Bharat's trust again.
Liked the story? Comment below!