This post is also available in: العربية (Arabic) اردو (Urdu)
Stereotypes and uncomfortable conscience lies hand in hand with our societal values. The desi household will let the other die of depression but won't allow the person to think out of their comfort zone. Being pressurized all life long and not being able to kick start their journey is what holds another life accountable for one's dead ambitions.
The change in the judgemental era was noticed when some inspirational stories of different commoners went viral on media who belonged to well off family backgrounds. Trying to achieve something out of their lives and starting up their own small scale businesses is what made them an example for other shy, narrow-minded beings.
Yet another inspirational story of a young Pakistani entrepreneurial mindset made an embark on social platforms recently and everyone showed their esteemed support for him. Meet Shaheryar Ahmed Khan, a resident of Karachi who holds a Bachelor's degree in Business Administration from a reputable university started a 'Gola Ganda and Soda' stall near Disco Bakery, Gulistan e Jauhar. Despite being qualified enough for a good job, this lad started his own small scale business and will definitely grow it further tomorrow.
This is Shaheryar and his amazing thought!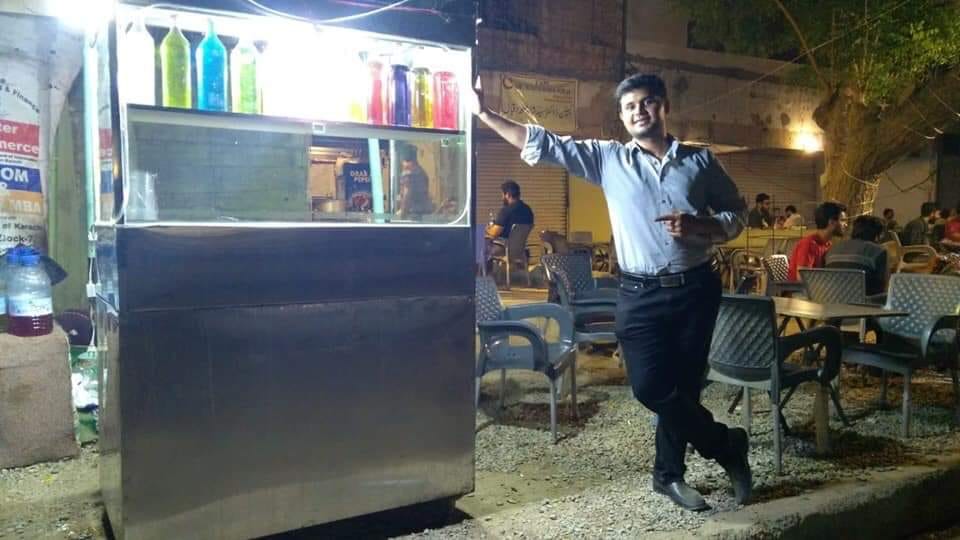 The love and prayers everyone poured for this amazing lad showed how big of a change we can be in someone's life if we want to. These type of selfless souls have set an example for other youngsters who don't have the confidence to face the negative elements of society. From all over Pakistan, blessings were sent for this guy which will definitely create a positive posture in his mind.
Also read: Meet Muneeb – A Student Who Started His Own Gola Ganda Business To Earn, Not Caring About 'Log Kya Kahenge'
That is so true and we are proud of him too!

Exactly, qatra qatra dariya banta hai!
He definitely stood out of the crowd!
Ameen!
'Log kia kahengay'? Not anymore. We are definitely gonna try the taste this guy has to offer and we pray for him that he achieves whatever he aspires for in life.
Have something to add to the story? Let us know in the comments below!