The situation of Pakistan's educational institutions is deteriorating with the passage of time. The quality of the curriculum and the teachers teaching it, both are poor. The conditions of government schools is another source of concern that needs immediate attention along with all the above factors mentioned. But certain alarming incidents pertaining to teacher and student bodies have been arising rather frequently, which includes physical infliction of pain on minor students by their teachers.
An episode of a similar nature took place in a government school of Abbottabad city, where the school teacher caused severe harm to a small girl. Someone made a secret video of that woman and in which she is seen dragging the poor student from her hair, kicking her repeatedly. We can assume she is also using a hostile and harsh tone of voice to further terrify the student.
It is saddening that the teachers in the surroundings seem to show no care or concern and simply moved along as if it's a regular occurrence and practice in the school.
The Two Teachers Were Jailed On Friday After The Video Had Gone Viral
The two women seen in the video below have been placed behind bars by a judicial magistrate. The school has been identified as Government Primary School Karimpura. Khyber Pakhtunkhwa Chief Minister Mahmood after being notified of the incident took immediate action and ordered the suspension of these two women.
Here's The Video Uploaded by A Twitter User
Viral video shows female teachers at a govt girls primary school Abbottabad brutally thrashing minor girl student pic.twitter.com/1DUAn3WrQT

— Khalid khi (@khalid_pk) April 19, 2019
The Video Definitely Infuriated Everyone
An investigation is indeed being carried out, as mentioned by the user.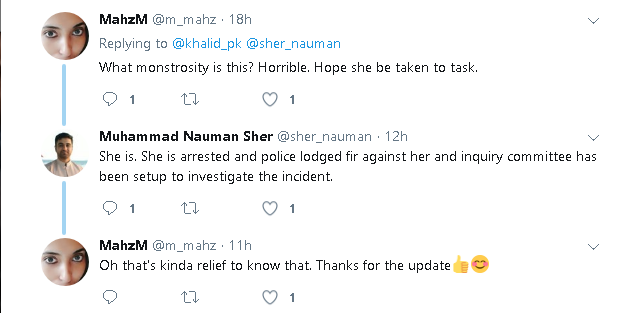 Absolutely, we need qualified teachers that are educated not just academically but as a human being too.

A point well made. Teachers do have the right to punish their students but one that encourages them to better themselves and instills accountability in a positive light.
According to the Father's Statements registered in the FIR, his daughter for the past 20 days has been reluctant about attending the school after the experience. Clearly, the girl has been scarred emotionally and psychologically as well.
ڈی پی او ایبٹ آباد اور محکمہ ایجوکیشن ان ایکشن کریم پورہ سکول می بچی پرتشدد کا معاملہ تھانہ کینٹ میں مقدمہ درج ٹیچر اور ہیڈ ٹیچر معطل محکمانہ انکوائری بھی شروع ثمینہ الطاف انکوائری افسر مقرر

— Abbottabad Police (@DpoAbbottabad) April 19, 2019
A police investigation team has also been formed by District Superintendent of Police Yaseen Khan Janjua along with Samina Altaf Shah, District Education Officer tasked by Secretary Arshad Khan to look into this matter in detail. These prompt responses of the authorities are something that should reflect across the country and we hope Pakistan not only focus on improving the standard of education but that of professors too in our government institutes.