This post is also available in: العربية (Arabic) اردو (Urdu)
Federal Minister Zartaj Gul's sister, Shabnam Gul, has been appointed as Director of the National Counter Terrorism Authority (NACTA). Ever since the news came out, people smelled fishy business right from the get-go.
Zartaj Gul, world's best sister:
The new director was working as a Grade-19 Assistant Professor at Lahore College for Women. And suddenly she found herself as a Grade-21 director of the most important CTD watch-dog of the country.  We would like to believe it's her hard work and skill that got her this glory. But sadly, in Pakistan, you don't need hard work and skill or relevant experience when you are a Federal Minister's sister.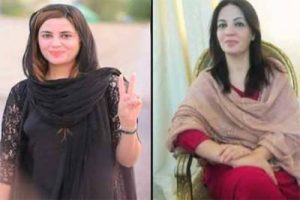 The Federal Minister for Climate Change made an official written request to the Interior Secretary Major (retd) Azam Suleman Khan, which found its way into social media, to appoint her sister in NACTA.  The letter is written by Zartaj Gul's principal staff officer Sami-UL-Haq on Feburary27, 2019.
It clearly refers to the Minister's telephone conversation regarding her sister's appointment,
"I am directed to refer to your telephone conversation with Ms. Zartaj Gul, Minister of State for Climate, regarding the appointment of Ms. Shabnam Gul in Nacta. The CV of Ms. Shabnam Gul is attached herewith for further necessary action please,".
Shabnam Gul was found guilty of plagiarism
According to the news story covered by Dawn in 2007, Miss Shaban Gul was found guilty of plagiarism while doing her M. Phil from Punjab University. The action was taken on the complaint of Saeed Asad, social welfare officer in the social welfare and women's development department, Azad Jammu and Kashmir. Punjab University also disqualified her for any teaching position in the future.
Twitter reacted to the controversy and is digging up everything they could find on the sisters.
Imagine:

A) Doing your M.Phil in something as nonsensical as Kashmiryat.

B) being so bad at it that you get disqualified for plagiarism.

C) landing a highly sensitive job at an organisation formed to counter terrorism.

No wonder we're on the FATF watch list.

— Kohprosh (@kohprosh069) June 1, 2019
The Government or the PTI did not make any official statement. But the Minister for Science and Technology Fawad Chaudhry defended Shabnam Gul in a tweet.
NACTA responded to the controversy:
The NACTA also claimed the hirings were merit-based, they clarified that a 3 member committee interviewed the applicants. Which than recommended 6 out of the 12 applicants to the Establishment Division.
The NACTA further added that Shabnam Gul is a Ph.D. scholar with several papers on counter terrorism and extremism. The official statement committee says she was found well suited for the position based on her research expertise.
In the official statement, NACTA deemed the social media bashing of the two sisters baseless. However, they failed to answer the letter written by Zartaj Gul to influence the appointment of her sister.
But nobody is having it:
Thread

Our Minister of Climate Change @zartajgulwazir arranges to have her sister, who was once suspended for plagiarism, work for our counter terrorism authority. Disgusting nepotism.
What's worse is NACTA is doubling down and claiming the recruitment was routine. Ridiculous https://t.co/Cq8ekGBe7K

— Ahmad Rafay Alam (@rafay_alam) June 2, 2019
According to NACTA, their job is to sift through 1000s upon 1000s of files carrying classified information & figure out what guidelines & parameters to set in any given operational theater & whether the classified information given is actionable or not. And here we have another pic.twitter.com/bDc4hew9a5

— Dr. Jamshaid (@JammanKhattak) June 1, 2019