This post is also available in: العربية (Arabic) اردو (Urdu)
Almost every other day, there comes a news where a Pakistani woman or a girl was sexually assaulted somewhere within the country. Among these news lies the shackles of the feudalistic lords mentality. These landlords hold utmost power within their region and believe they cannot be touched by any power, due to the lack of accountability in our country. For decades, the power has been inherited and they take negative advantage of it.
Similar to this is what happened with a woman from Okara. Shared in a video on Facebook, the Pakistani woman from Okara is seen crying helplessly while begging the authorities to take actions against the men who did this to her.
The Woman Belongs to Mian Khan Chorasta Area, District Depalpur, Okara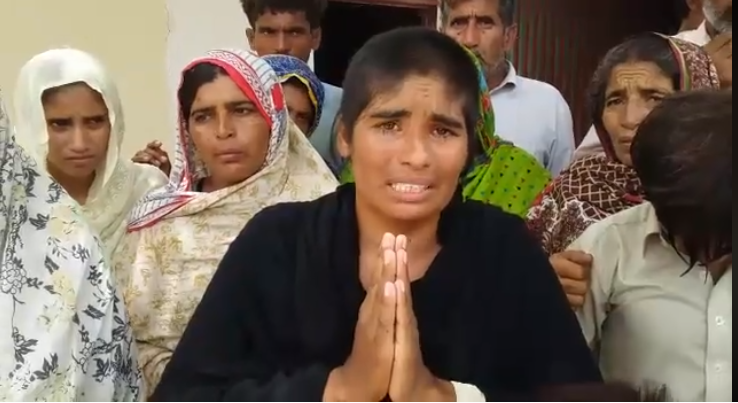 In the video shared online, the woman is seen begging the local politicians to serve her justice. She is crying for help, stating how her life is a subject to huge risk. According to the sources, the landlords kidnapped her and sexually abused her when her husband refused to work for the landlord on minimal rate.
"I was taken to the dera of Faiz Ahmed Watto in Ameen Kot where I was raped for 7-days until I managed to flee. They shaved my head too. My medical report was presented in front of the magistrate and my statement was recorded under section 161-164. However, the police failed to arrest the culprits and are pressuring us to reach an agreement"
The woman mentioned that she was kidnapped by men named Zubair, Ghaffar and Gulzar. Additionally, she was taken to the dera of Faiz Ahmed Wattoo, where they raped for 7 days and shaved her head to teach the husband a lesson.
As per claims, no arrests were made and even after the FIR was lodged, the police failed to bring accountability to this case. She is now urging the Chief of Army Staff, Chief Justice and Imran Khan to take notice of her plight and take some action.
Here's the Video:
Sad to see how no matter what we do or say on social media, this is the reality of Pakistan.