The HBL Pakistan Super League Season 3 is in full swing and it is producing some marvelous moments. The fights, the struggle, the shots, the scores and the fans, everything has been going perfect in the third edition of Pakistan's most loved cricket tournament.
In the tough encounter between Multan Sultans and Karachi Kings, there came a very unique moment, when young Saif Badar was playing against the extremely experienced and loved Shahid Afridi. Afridi was bowling to Saif Badar in the encounter.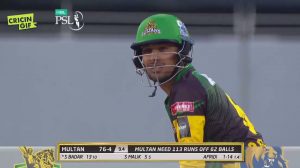 First off, Saif Badar moved his feet to perfection, hitting Shahid Afridi for a huge six. A couple of more boundaries and Saif was booming with confidence. All this, before Shahid Afridi managed to hit his stumps and send him back to pavilion. However, Shahid Afridi's celebration after Saif's wicket was more anger than happiness. Pointing towards the pavilion with his hand and screaming, Shahid asked Saif to **** ***.
However, after the match, as so many players take to Twitter to discuss the game, Saif Badar did too. On the video of him get bowled by Afridi, Saif Badar wrote: "Still love you Shahid bhai! #Legend" 
Still love you Shahid bhai❤ #legend https://t.co/BhscumlPz0

— Saif Badar (@imSbadar) March 10, 2018
Showing great sportsman spirit and respect for Shahid Afridi, Badar's comments were appreciated by many. However, the story would never be complete had Shahid Afridi not replied.
Im sorry what happened that was momentum of the game..I always support my youngester.Good luck

— Shahid Afridi (@SAfridiOfficial) March 11, 2018
After Shahid Afridi's formal apology on social media to Saif Badar, a lot of people appreciated the step, including journalist Iqrar-ul-Hasan and Saif Badar himself.
That is why you are Shahid Afridi….

— Iqrar ul Hassan Syed (@iqrarulhassan) March 11, 2018
Ye cheez.. is bar ki trophy pakki #KarachiKings ki h 👍 bcos of one n only #ShahidAfridi 👌

— Kumar Vinod 🇵🇰 (@Viniii112) March 11, 2018
Thori si tameez ahmed shehzad ko bhi sikha dete….amir se mafi mange woh 2 edge kr k bhi attitude khtm nahi hota uska

— H (@_HG97) March 11, 2018
However, Saif Badar was feeling rather cheeky after his initial tweet, because right after the tweet where he said he loved Afridi, he also retweeted the video of him hitting Shahid Afridi for a huuuuge six! Might be a coincident, but it really is cheeky.
SIX! 9.4 Shahid Afridi to Saif Badar
Watch ball by ball highlights at https://t.co/0U1go038Vz#MSvKK #HBLPSL #PSL2018 @_cricingif pic.twitter.com/hSLthpVUV2

— PakistanSuperLeague (@thePSLt20) March 10, 2018
Crazy moments in this year's PSL has brought joy to a country that has so long suffered without cricket. We must appreciate everyone's effort in making this tournament a success.