They say the basics of Imran Khan's politics is to demand from the public that he be given a chance, because they haven't tried him yet. However, Pakistanis have tried both men and women in power, how about giving a chance to somebody that's absolutely new to the market? The transgender community, is who we speak of.
It seems that even the transgenders have realized that men and women can bring no change and do nothing for the country, let alone grant them their basic rights. Thus, in a bid, the transgender community of Pakistan has decided to take things into their own hands and make sure they are eligible for contesting the upcoming 2018 general elections.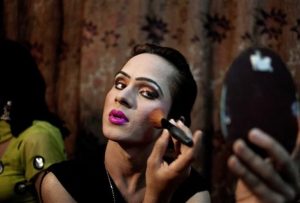 Thus, a petition has been filed in the Sindh High Court and is being head by a two-member bench on whether the Election Commission of Pakistan has any documented provisions for it or not. The bid is to create a provision for the third sex contesting election if it is already not available. The Sindh Transgender Network had taken the ECP to court for previously not including any clause so that they too, can represent their small but energetic community.
The petition was filed by the president of the Transgender Network, Sapna Rajput, who made the court note that the ECP nomination forms only identified two genders and there was no column for transgenders in any of the forms. She told the judge that the transgender community of Pakistan too wished to represent themselves in the top brass, work for their people and also the general public. They too have high hopes and dreams, similar to transgenders in other countries of the world.
The petitioner's lawyer told the judge that: "Members of the transgender community are also equal citizens of the country, therefore, they should also be allowed to participate in the elections." The lawyer also stated that separate polling booths should be set up for transgenders in the upcoming elections.
In 2009, former Chief Justice of Pakistan, Iftikhar Muhammad Chaudhry had taken suo-moto action on the demands of the transgender community and had told all responsible departments to not create hurdles in their path, instead, help and access them in their endeavors. 8 years later, the transgender community still struggles for its basic rights.
Justice Akhtar, who is heading the bench, noted that there was no clause present that barred transgenders from contesting elections. He tipped them they should write 'khwajaa saraa' in the gender/sex box. However, more details will be revealed in the next hearing of the case.