For years now, the Pakistan Tehreek-i-Insaaf has talked about 'tabdeeli', which means change, a facsimile of revolution. The model that has set up in Khyber Pakhtunkhwa, will be the model followed throughout the country. Although a lot of good has been done in the province, it is still far from perfect.
In the last two years, over 55 transgenders have been brutally murdered in Khyber Pakhtunkhwa, and there's been little or no protest against this fact. While at one end, Pakistan introduced its first transgender news anchor to the country, on the other other, two innocent transgenders were murdered in cold blood.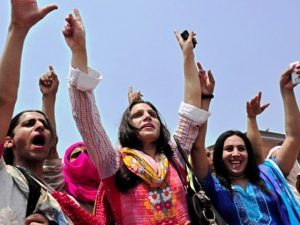 As per Trans Action Pakistan, since January, 2015, this is the 55th murder of a transgender in one of the most hindered provinces of Pakistan. The victim, Daniyal, as recognized by the KP Police, was on his way somewhere in a rickshaw with a friend. As the rickshaw approached a signal, unknown assailants on a motorbike came from behind and shot both the transgenders sitting behind the driver.
The other transgender, who has been recognized as Aizaz, received multiple shots as well. Both Aizaz and Daniyal died on the spot, before they could be taken to a nearby hospital. The attackers, after taking two lives, successfully fled the scene, without any intervention from the KP police. The transgenders belonged to Lakki Marwat, according to the City SP Kokab Khan. Both Aizaz and Daniyal were heading to Pathang chowk from Iqbal Plaza when they were targeted.
The bodies, after death, were sent to the Khyber Teaching Hospital for a thorough postmortem. After the incident, police took the rickshaw driver into custody for investigation and raids have also been conducted on many different areas in search of the culprits.
Previously, at the start of this year, a transgender was abducted and raped by at least nine people in the Gulbahar neighborhood in Peshawar. The vices against the transgender community in KPK prevail because the activists voice their opinions for equality and injustice.