This post is also available in: العربية (Arabic) اردو (Urdu)
Scams and scammers are widespread and on the hunt for ill-informed people who fall into their trap. Many people in Pakistan still receive fake text messages announcing schemes, redeeming prizes, bounties, and lucky draws. People also receive phone calls inquiring about personal information regarding bank account, identification, home address, etc.
A similar experience happened with an individual in Karachi who received a phone call from someone coming forward as an Army Officer. The person pretending to be an army officer on the line tried to seek the guy's personal information: ATM and Bank details and CNIC number and what kept on happening is scary.
Here is what happened when he got the call from a man impersonating as an army officer:
Received call from an unknown caller, impersonating an army official, from 0317-4918523 (Caller – 1) seeking my personal information i.e. CNIC, ATM Card & Bank Details.

The entire conversation began with the recent country-wide census that your details are somehow not appearing in the list and needs to be filled to ensure that no ill-gotten money is left unchecked and to stop recent HBL type fraud-transactions. For that, he sought my CNIC and my bank account details which intrigued me why would army investigate your bank account details when there are commercial banks and central bank at bay to keep a check.

I had read the recent article in DAWN about these calls so I enquired that what type of intelligence agency is this that they are calling from a mobile number to which he replied that you will receive a call from ISL – Army Headquarter. The alarming thing in this was that initially, I received a call from some other country 00-71-8668688017 and then there was a diversion to this number 0051-1125 which again was another sign. This guy (Caller – II) reiterated that this is for your safety and if you are not providing us the information your bank account will become dormant and all your money will be credited into government account, which made me laugh, as I knew it won't be happening because eventually, SBP will be crediting the amount to a government account, not the army. This officer ordered that please cooperate and provide the information to the (Caller – I) who was on hold throughout this time. I again enquired that I am not satisfied and I wouldn't provide the details sorry rather i will go to HBL for confirmation to which he said that now you will receive call from HBL head office for confirmation there onward a call came from a third country 00-58-178-6431970 and then diverted to 00-111-111-425 and I knew this was a fake number and I didn't pick up. The "Caller 1" kept on warning that your account will be blocked and etc and you will receive a message soon after this call. I questioned him that if he really is from army then he would have some information about me like my home address, my CNIC (which I had not given so far), my occupation etc and he knew nothing. He again started saying the same thing, we are warning you and we are sure you have ill-gotten money in your account and stuff like that. I didn't bow down and eventually I told them sorry I cannot share the information do whatever you want to do knowing nothing is going to happen.

In nutshell, please avoid receiving calls from these number. They are fraudsters impersonating as army officials and this has been negated by the army as well.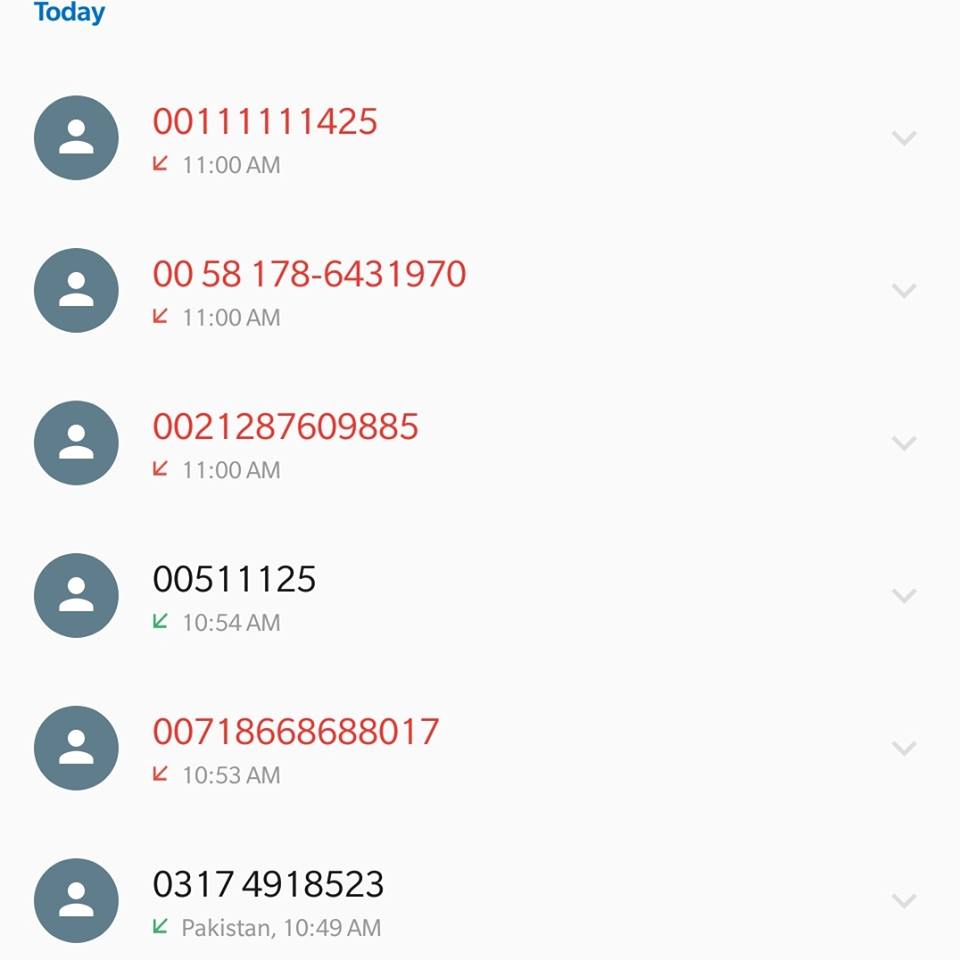 Received call from an unknown caller, impersonating an army official, from 0317-4918523 (Caller – 1) seeking my personal…

Posted by Fahad Javaid on Monday, June 25, 2018
This is actually scary and problematic. Since this guy actually used some sense and had a bit of awareness, he escaped it otherwise any normal citizen runs the chance of being scammed by these units. Share your experience.