In Pakistan, cricket is considered religious, and people of the country think of cricket as their own resort away from troubles. Ever since the country's inception, cricket has gained more fame than any other sport, and is widely played around the country.
We often talk about fixing our cricket at the grass-root level, how children need to be prepared and trained from an early age so one day they can make the nation proud. Recently, a video went viral on social media where a very young boy was seen bowling terrifically inside his house. He bowled fast with his left arm, giving shades of Waseem Akram and his action.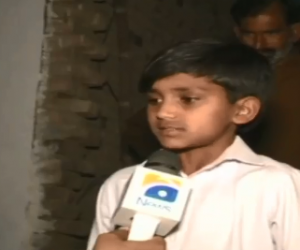 Initially, the video was posted by somebody on the internet and from there on, it spread like wildfire.
I just recieved this video and don't know about this brilliant kid, want to know your thoughts abt this terrific bowling. @wasimakramlive @shoaib100mph @iramizraja @SAfridiOfficial pic.twitter.com/8JPRQNHlfj

— Faizan Ramzan (@faizanramzank) February 27, 2018
After the video went viral, the Sultan of Swing and Pakistan's most highly rated cricketer ever, Wasim Akram took notice and inquired about the young child. The potential in the kid could be seen easily. Aktam then tweeted from his account, on where the boy was from and how he was willing to help him.
Where is this boy??? We have serious talent flowing through the veins of our nation and no platform for these kids to be discovered. It's time we do something about it #TheFutureOfCricketIsWithOurYouth https://t.co/ybzd5ASeTx

— Wasim Akram (@wasimakramlive) February 28, 2018
So, as our media so often does, Geo News was able to locate the boy and went to interview him. The child's name is Hassan Akhtar and he belongs to Chichawatni, Punjab. The child, who does not speak Urdu, studies in class 3 and has been playing cricket for 3 years. Hassan said that his parents do not force him to study and allow him to play cricket. On being asked who his favorite cricketer was, he said that he idolized Wasim Akram.
Every single day, Hassan Akhtar practices 3 to 4 hours every day on the same place where the video was recorded, which is inside is house. On being asked if he would work with Wasim Akram in his coaching, he said that it would be his good luck. Hassan, who is only 6 years old, is also focusing on his education, just as Wasim Akram said.
Hassan Akhtar is a gifted child with the talent and love for cricket. If groomed properly, Hassan can make Pakistan's national team and in the future, make the country proud as well. People are now looking towards Akram for helping this kid become a legend, just as Wasim Akram himself.