This post is also available in: العربية (Arabic) اردو (Urdu)
The Pakistani bureaucracy, often a very debated topic in the country, is known for its unorthodox way of working in the country. It is essential to know the difference in the Federal bureaucracy of the country and the provincial one.
From recruitment processes to duties and scrutiny, the Federal and Provincial services differ from each other. To become a part of the Federal system, one must appear through Civil Superior Services Exam, known as the CSS. To become a part of the provincial setup, one must give their PCS or PMS (Provincial Management Services) Exam, as it is better known.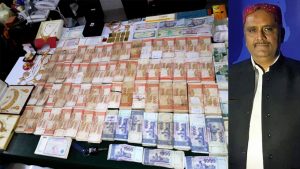 In the Federal setup, the scrutiny of affairs is rather transparent, than compared to the Provincial setup. Huge examples of extremely corrupt bureaucrats has emerged from provincial services in the last 5 years. First, it was the Finance Secretary of Balochistan, Mushtaq Raisani, whose house had been raided by NAB and other agencies, where assets of Rs. 75 crore were recovered from.
Now, the PS to Local Government Secretary Sindh has come under the limelight, after National Accountability Bureau (NAB) raided Ramzan Solangi's house and recovered assets worth Rs. 50 million from his house. Valuables contained Rs 31.5 million in cash, prize bonds worth Rs1.8 million, gold bars worth 100 tolas, gold jewellery, precious watches and other valuables.
As per Ramzan Solangi, after his arrest, he said that these assets did not belong to him, but he was just safekeeping them for someone else, someone more powerful who did not want any blame to fall on him. However, NAB officials believe that Solangi was a part of the whole charade, and he had been extorting bribe money from various departments of Sindh government in the name of higher powers.
Ramzan Solangi has remained fixed on this post as PS to Local Government secretary for the last 10 years, serving under different secretaries. Analysts believe that Solangi is just a pawn in the bigger game and there are more safe-houses where larger collection of valuables are present, all that have been stolen from the Sindh government; i.e national exchequer.
When the provincial and federal services of bureaucracy are compared, it is believed that running rampant on public funds is easier in the provincial setup, as local ministers too become a part of the corruption charade, providing facilities to bureaucrats, along with opportunities. Whatever one might say, to steal from the government is stealing from your own house. One wonders, where ever did the guilt go?