Yesterday, different media outlets reported a story where a senior PML-N Senator was found touching and groping a minor girl, in front of thousands of people who were protesting in Karachi.
Nisar Muhammad, a PML-N senator attended the protest rally and a shocking video of him groping a minor girl was out. A large number of people were gathered in Karachi to protest the 'fake encounter' of Naqib Mehsud by Rao Anwar.
However, ever since the news had gone viral, and the senator Nisar Muhamma was being disgraced, he has finally delivered a message in a video recorded statement. Here's what he had to say.
As per Nisar Muhammad, the PML-N Senator, he had come to Naqibullah's protest against Rao Anwar, and thousands of people had gathered there. While the people protested, a little girl came to the stage, asking for justice herself. She had four sisters with her as well, as her brother had been killed by the police.
"As the little girl delivered her speech on the podium, most of the people started to cry, as there was so much power in her words. At this, I got up and went to the stage, to show my love and affection for the little girl who was making grown men cry," said Nisar Muhammad.
"In our community of Pakhtuns, showing love and affection to children is a very normal thing. It is the society that has turned this beautiful and natural relationship between a child and a grownup into something lustful," he further added.
"I belong to a respected family and I know my values in life. I saw my little daughter Musqa in her, who is the same age. I was speaking to the public and I was crying, along with that little girl, as I was wiping her tears!" 
He further said that let alone Muslims, any human who would have seen that little girl and speaking, would have been trying to show the same love and affection to the child as I did. He also requested the media to not print an telecast everything just for ratings, sometimes there are larger issues at hand.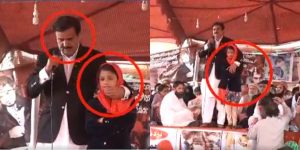 Nisar Muhammad even said that it is only due to the rape and murders of Asma and Zainab that society thinks a man touching a child's shoulder in affection is groping or molesting her.
Nisar Muhammad's statement surely makes sense. He said that we should look at our own children an families and then think, whether we would have shown the same affection to that grieving little girl or not.