Around four to five years back, Karachi was called the house of MQM. Or rather, MQM was the sole ruler of Karachi. At one point in time, the said party's chairman Altaf Hussain wanted Karachi to be a separate province. And he fed that theory so well into people's mind that till now many people in Karachi count the city out of Sindh! *face palm* So, where actually does Karachi fit into (provincially)?
Well, this was not the only thing that Altaf Hussain fed into people's mind, but the mere fear was enough. The time when Karachi was called a "Don't Tell My Mother" travel place, because no mother would want to see their kid in a bori! And for any Pakistani, this word alone is enough to know the darkness around it.
But the recent rumors have another fear around them! It is being said all over the internet that MQM chairman, Altaf Hussain, has left this world, clinically!

As per the rumors, it is also been said that it happened around 1:36 am!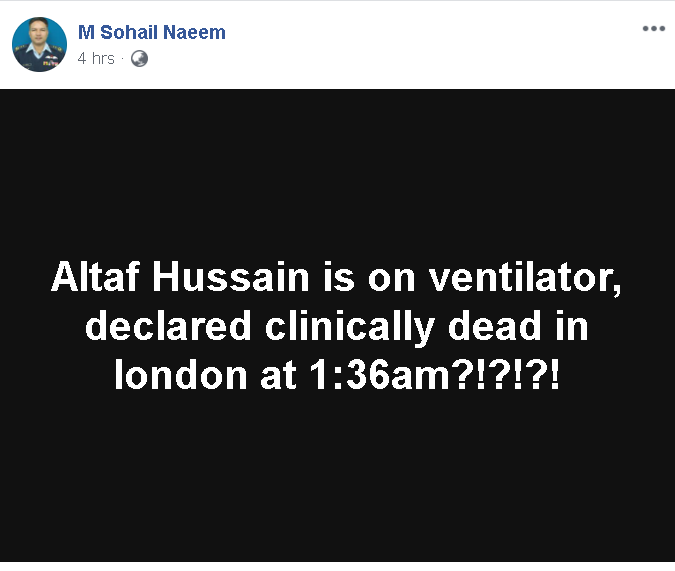 But then someone confirmed the news of his well being and the rumors of him gone were all false!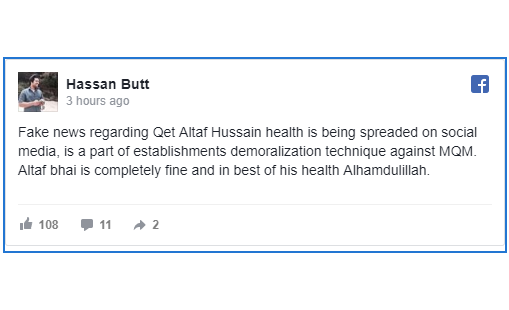 Irrespective of his behavior, he sure has a massive following in Pakistan, especially in Karachi, because Altaf Hussain wanted the rights of "muhajirs" the people who migrated from India to Pakistan and made a sacrifice. Altaf Hussain also believed that the muhajirs were not given the due respect and status which was given to Sindhis, Balochs, Punjabis or Pathans for that matter. Hence, he wanted a separate province for Karachi!
Well, two years ago the similar kind of news spread across the internet and people believed it. Everywhere on the tv the news channels showed that people were saddened over his demise. But much later his party representatives denied any such news and told the media that he's doing completely fine.
Have anything to add to the story? Let us know in the comments below! Cheers.