If there's one thing that sells hotter than politics in the country, its religion. Accept it or not, it's a fact. The lethal combination of religion and politics, when mixed, gives us rogue clerics like Khadim Rizvi who want to shine their political shops under the guise of deen.
Ever since Rizvi and the Tehreek-i-Labaik Ya RasoolAllah showed up out of nowhere, they have held the State hostage to their countless demands and appalling protests, which have led to riots inside the country on more than one occasion.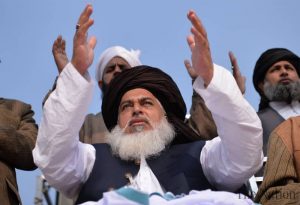 The rogue mob that turns out when protesting, has not spared anyone in the past. From lashing 'chappals' at helicopters to wearing gas-masks and causing disturbance to the capital city and elsewhere, they've done it all!
For a long while, the TLP thought they were absolutely untouchable. They would go on and State that the honorable Chief Justices of the Supreme Court should be slain and that the Chief of Army Staff was a non-Muslim, inciting mutiny within the most prestigious institution of the country.
All this, until last night. Boom! Out of nowhere, the government started its crackdown against TLP leaders and important members. Reports started to emerge that Khadim Rizvi had been arrested from his hujra, along with other important district heads of the TLP. The Chief Justice of Pakistan had hinted at this operation a couple of days back from London.
Question: Why the apex court has taken no action against Khadim Rizvi & Co for issuing calls for mutiny and decrees to kill judges?

Chief Justice: You'll find that out in a matter of few days. *BOOM* pic.twitter.com/a9Ey2B83Rp

— Ali Salman Alvi (@alisalmanalvi) November 23, 2018
At this, it was like Eid had come early this year. Pakistanis on social media, from all over the world, celebrated Khadim Rizvi's arrest like it was something they really, really desired. With DG-ISPR Asif Ghafoor's tweet, which he quoted from the Holy Quran, on people who incite violence on Earth, everything started to become clear.
وَإِذَا قِيلَ لَهُمْ لَا تُفْسِدُوا فِي الْأَرْضِ قَالُوا إِنَّمَا نَحْنُ مُصْلِحُونَ۔
اور جب ان سے کہا جاتا ہے کہ زمین میں فساد نہ کرو تو جواب دیتے ہیں کہ ہم تو صرف اصلاح کرنے والے ہیں۔

— Asif Ghafoor (@peaceforchange) November 23, 2018
Even though TLP's rogue mob tried to take to the streets late at night, when the operation was on, it was subdued in fine fashion by the security forces as this step seemed pre-planned and well thought at the government's end. Before anyone could know, the top leadership of TLP was in the police's custody.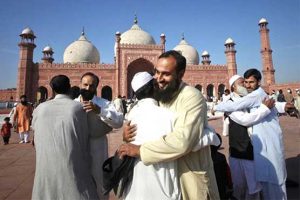 Overly joyed Pakistanis showcased their happiness at the vigilant move through witty expressions and tweets. Let's check out some of them and see how hyped they were.
Our favorite comedian Jeremy McLellan was in line as well, showcasing his happiness
Things I'm thankful for:
• My family
• My friends
• My fans
• My career
• My health
• Khadim Rizvi getting arrested

— Jeremy McLellan (@JeremyMcLellan) November 24, 2018
Some were backing CM Punjab Usman Buzdar for this brave move, taking out all of the bad guys
Malik Riaz ❌
Mansha Bum ❌
Daniyal Aziz ❌
Khurram Dastgir ❌
Khadim Rizvi ❌

Everyone's a gangster until a real gangster walks in the room. pic.twitter.com/p20tKq7Vww

— ZK (@zkhaaaannnn) November 23, 2018
Others were honest in their opinions, congratulating the government for this act
If the news of Khadim Rizvi's arrest is true, this is certainly well done.

— Hafsa Khawaja (@Hafsa_Khawaja) November 23, 2018
Joke se hi joke nikalta hai, the Pakistani James Bond, Faisal Vawda!
I believe Faisal Vawda should go to arrest Khadim Rizvi when the court orders.

— Syed Ali Raza Abidi (@abidifactor) November 23, 2018
It was a day full of happiness, Eid, as we said!
What a day in Pakistan

A woman led opp against terrorists
Khadim Rizvi arrested
And this picture of a lady commando protecting Sikh pilgrims pic.twitter.com/iBG3vcpvOX

— Furqan Ahsan (@furqiahsan) November 23, 2018