Disclaimer*: The articles shared under 'Your Voice' section are sent to us by contributors and we neither confirm nor deny the authenticity of any facts stated below. Parhlo News will not be liable for any false, inaccurate, inappropriate or incomplete information presented on the website. Read our disclaimer.
This post is also available in: العربية (Arabic) اردو (Urdu)
At a time when the engine of religious extremism is belching its narrative with unprecedented vigor, team Quwat e Uraan celebrated Christmas with students at Government Elementary School Jaylana to express solidarity with religious minorities.
"Since its inception, Quwat e Uraan has been advocating to create safe spaces for minorities so they can freely practice their religious and cultural norms," said Noor Fatima Rashid, President of the non-profit organization. "This was a small step taken towards expressing our love towards our religious minorities."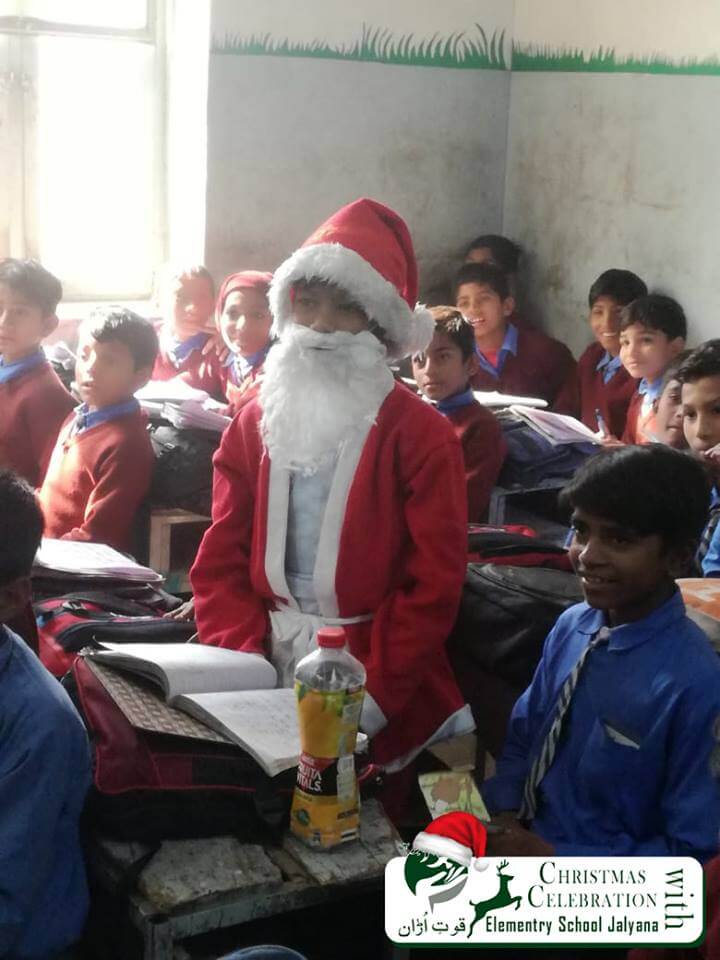 "According to the laws of our country, minorities have equal rights and are an integral part of our society. However, most extremists fail to realize this," said Waqar Mehmood, who serves as a management head. "We want to give them a message of acceptance and diversity."
As planned, few minutes before the eagerly awaited lunch breaks, Santa sneaked into the classroom in his typical red costume and fluffy beard. "It was after a while students recognized that someone unusual was sitting on the last bench," said Rustam Chaudary, who impersonated Santa. "After noticing me, some students yelled excitedly while others ran towards me. One after another, I hugged all of them."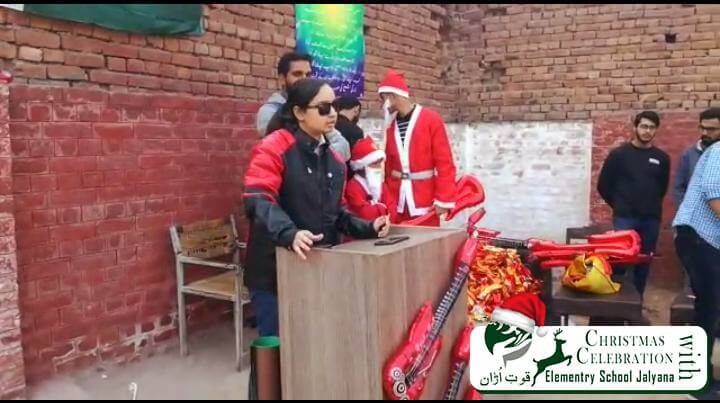 After Santa distributed gifts amid the rhythmic jingle bell lyrics, they all assembled in a misaligned queue to get pictures with him. Contrary to the enthusiasm that filled the classroom, many young students who fancied Santa but we're seeing him for the first time in real life were a bit hesitant to get near.
Kabeer Azhar noted that they faced immense difficulties to get props for the event. Kabeer and his group of volunteers visited many local shops before they found Santa costume. "It is of no surprise where being a Christian could earn you ridiculous labels from the mainstream society, we had to struggle to find props."
Solidarity with minorities was one of the events organized by Quwat e Uraan this year, Others included workshop against child abuse, English class orphanages, and Ramadan Drive.