The beauty and serenity that Pakistan is blessed with, can't be found anywhere else in the world. Whether you travel through the Northern part of Pakistan or hike towards the mountainous regions, it will capture your soul aesthetically. Consisting of four provinces filled with amazing sites, Balochistan is considered to be the fine spot for short term vacations.
Balochistan is said to be the largest province of Pakistan and holds an old cultural heritage. Sight-seeing the province is a treat to the eyes and Pakistanis try and spend their weekends and long holidays on the amazing parks, lakes, and beaches of Balochistan. Since last year, some tourist spots have been discovered and Pakistanis are thrilled. Moola Chootok and Kund Malir tops the list and are the recent attraction for tourists. Other tourist spots include Pir Ghaib Waterfall, Princess of Hope, Hingol National Park, Hinglaj Mata, Godrani Caves, etc.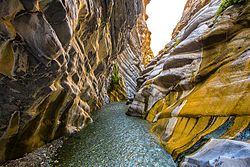 As tourists are amazed by the beauty the province holds in it, they complain about the failures of The Balochistan Tourism Department. No safety measures, no lifeguards present and no first aid services are provided on the beaches and waterfall areas which results in many people drowning. The government of Balochistan and the tourism department has succeeded in preserving the cultural heritage but failed in saving lives.
The Bolan Valley of Balochistan has a breathtaking waterfall flowing down the rocky mountains and meeting different ponds and streams on its way known as Pir Ghaib Waterfall. There are many stories attached to this specific place. Some say that weird witchcraft is performed at times while some believe that an invisible saint still lives there.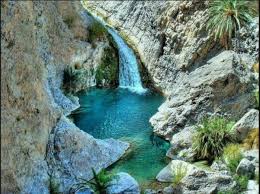 The following post on Facebook made people question their own safety at the Pir Ghaib Waterfall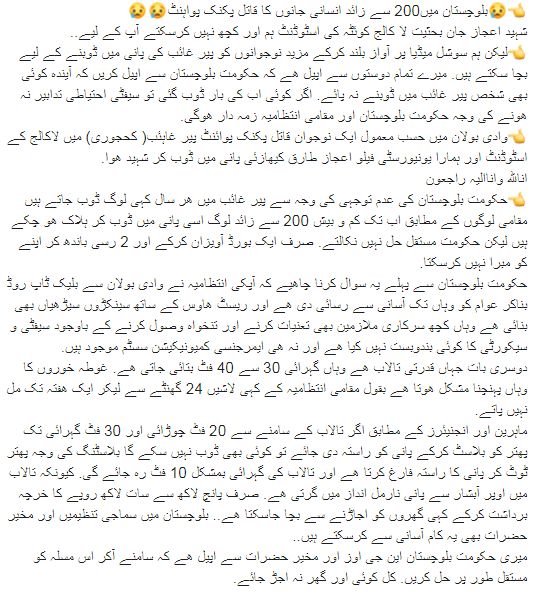 "It states the story of a law student named Aijaz, who was on vacation at the spot, one second he was in front of his friends' sight, the other second he vanished. The waterfall is being called a 'slayer', which has swallowed more than 200 human beings. It is basically to appeal to the government of Balochistan and the tourism department to take steps regarding the safety of the tourists and that the waterfall should not be called a picnic spot. Even the way and amount needed to overcome the dangers of high flow of water is mentioned."
People are hoping that the concerned authorities look into the matter and identify the problem as soon as possible. Till then the tourists who want to visit Balochistan should take the necessary precautions and be responsible for their own selves.