Resham Khan, a renowned Pashto singer and stage actress was found dead in Nowshera. She was known to have been severely tortured to death by her husband, confirmed by post-mortem reports. According to Resham's family, she was residing at her parent's house and her husband was abroad since they had a dispute.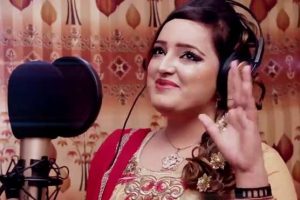 According to sources, upon returning, Resham's husband convinced her to accompany him to visit his unwell father. It was then after few days of her not contacting her brother, he went to her house and found her dead. After an FIR was lodged by Resham's brother Obaidullah, her husband went missing. He also confirmed that the couple had been involved in a dispute. They were married for nine months and Resham was his fourth wife.
She was well-known for her popular songs such as 'Ta Rapase Jara' and 'Zalima', following her performances in other countries as well. Moreover, she was a part of a famous Pashto drama serial comprising of 350 episodes 'Zhobal Goluna', where she played a role of a university student.
According to the statistics compiled by an NGO, this incident is known to the 20th one in Khyber Pakhtunkhawa. Recently, another singer known as Sumbul was also murdered after she refused to attend a private musical show. Such incidents pertaining to singers and actresses being murdered are common in the province, as some famous Pashto singers that were victim to death either by their brothers and husbands were Gulnaz, Ayman Udas and Ghazala Javaid in different districts of KPK.
It is sad to see such incidents so common in these areas and that no action is being taken to stop them. Moreover, it is important that these actresses and singers are provided with security by the local provincial Government because it is inhumane to be murdered over petty disputes or related to their choice of career. Such incidents clearly show these women following their passion are victim to violence and the amount of intolerance in our society that needs to be addressed.
We pay our deep condolences to the family of Resham Khan, and to the Peshawar's artistic community for losing a great artist.