This post is also available in: العربية (Arabic) اردو (Urdu)
Pakistan Tehreek e Insaf (PTI) has achieved huge success in several areas since its win in the last elections. Numerous pending issues which were deliberately getting delayed previously have been resolved and Pakistanis can't thank Imran Khan enough. The case of Pakistani nationals who were stuck in Malaysia because of the cut off of direct flights among both countries were recently released on PM Imran Khan's request.
A large number of expatriates who were stuck in Malaysian jails were recently released.
Reportedly, 320 Pakistanis who were sent to jail because of committing minor offenses in Malaysia returned home on Wednesday. Zulfiqar Hussain Bukhari who was appointed as the Special Assistant on Overseas Pakistanis and Human Resource Development by PM Imran Khan said that Pakistanis despite completing their ordered sentences are left helpless in Malaysian jails. The PM after getting the information of the stranded Pakistanis took the issue to the federal cabinet and requested the Bait-ul-Mal and Foreign Office to release a total of Rs.10 million and Rs.40 million respectively. The amount was released to bear all the expenses of those Pakistanis and bring them back so that they can spend Eid-ul-Fitr with their families.
Also read: PM Imran Khan Announced Rehabilitation Packages Worth Rs. 22 Billion For Tribal Areas And Tabdeeli Ho Tou Aisi!
The authorities concerned gave in their ultimate efforts to make it happen.
The Pakistan International Airlines was given the charge to bring the Pakistanis back to their homeland. PIA's Boeing 777 along with the Nationals landed in Islamabad on Wednesday this week. To ensure reliability, the Officials of the Overseas Pakistan Foundation (OPF) and the Community Welfare attache in Malaysia were in constant contact with the concerned authorities. Director General Kashif Noor of the Bureau of Emigration and Overseas Employment was responsible for the airlifting of Pakistanis before 29th May.
Several clips comprising of the whole journey from Malaysia to Pakistan went viral on social media and Pakistanis are loving it. Returning Pakistanis were recorded chanting 'Long Live Pakistan' and 'Long Live Imran Khan' slogans inside the plane. The video was then shared on Imran Khan's official Facebook page.
Try to hold back your tears while watching the video. Pakistan Zindabad!
Chants of Pakistan Zindabad as 320 Pakistanis are repatriated to Pakistan on a special PIA flight from Malaysia. The initiative was taken on instructions by PM Imran Khan to Ministry of Overseas Pakistanis and HRD in a collaborative effort with Foreign Office, Pakistan BaitulMal & National carrier PIA.????

Posted by Imran Khan (official) on Wednesday, May 29, 2019
Social media was filled with supportive comments from Pakistanis and the ultimate love they have for their leader.
He truly is!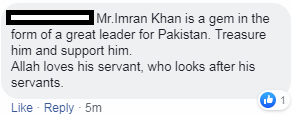 Ameeeeennnnnn!
The true meaning of a leader!
The only hope!

Have something to add to the story? Leave it in the section below!