Pulwama incident changed a lot of things for both of the countries. The countries who want Kashmir by hook or by crook! At the stake of losing innocent lives, this is unfair we all know but a common human is left with nothing politics of the government gets dirty!
After, this incident India took many decision in a knee jerk reaction. Like deleting Atif Aslam and Rahat Fateh Ali Khan's songs from T-Series channel on Youtube and Javed Akhter canceling his trip to Pakistan.
There were many other attempts to belittle Pakistan because the Pulwama incident was blamed on Pakistan. Since PM and President of Pakistan were hosting the crown prince of Saudi Arabia, India did not get any reply from Pakistan on this blame. But today Imran Khan in his address to the nation mentioned that "We do not have anything to do this barbaric incident and we are working towards the stability of our country"
Indians even drew "wrong flag" of Pakistan on road and cars were going over it quite normally but when the video went viral Pakistanis were not offended AT ALL! Because Indians fail to draw the flag right, LOL!
Now, another propaganda started on the internet! That if you search on Google "World's best toilet paper" the image of Pakistan's flag appears!
Pakistan Flag is our Toilet Paper💩🇵🇰😏

— Debalina Das (@Debalin13292177) February 17, 2019
But in reality, it was all a game to play with the algorithm of Google!
Protesters used Google Image's relatively easily-manipulable algorithm to rank pictures of the Pakistani flag for toilet paper queries https://t.co/9PCL1uM6zH Eventually, one of these cases is gonna be the wake-up call for Google….

— Rand Fishkin (@randfish) February 18, 2019
After that, this shameful photo is going viral and things are just getting uglier! But looks like Indians are forgetting one VERY important thing. LOL! Toilet hai bhi?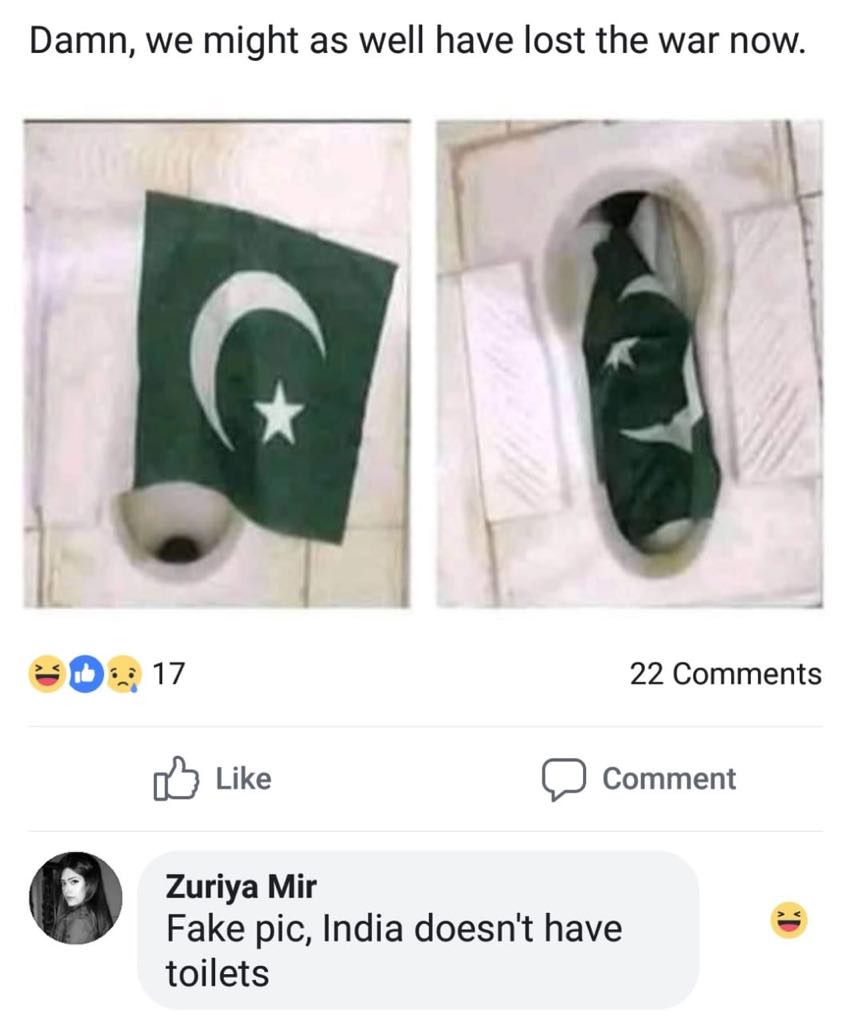 Lol! Don't know about Pakistan's flag being the "best toilet paper" but the world is sure about how India lacks sufficient toilets… so, bro the joke is on you!  
This video of India stopping the supply of tomatoes is as funny as it gets! Matlab kuch bhi? Bhai hum apny uga lein gy. *Face palm*
مجھے لگتا ہے کہ ان کا منصوبہ ہمیں ہنسا ہنسا کے مارنے کا ہے 😀

Posted by Kamanger Hussain on Tuesday, February 19, 2019
This is getting too much! Let's such stop shaming each other? What do you think guys? Let us know about it in the comments below!