Pakistan, a member of the Commonwealth, always tends to take part in the extra-curricular games of the organization. Readily, this year as well, the country participated in the 2018 Commonwealth games, being held in Queensland, Australia.
Since Pakistan's sports bodies have not been performing their duties as diligently as the cricket board does, there was second to no expectations from the athletes that were to perform in the Games.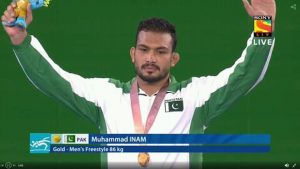 However, shunning the whole country and the world, Pakistan has performed much better than all expectations. The highlight achievement came through Inam Butt from Gujranwala, who took part in the wrestling event. Inam Butt has brought the country its first  Commonwealth Gold medal of this year's event, totaling the tally of medals to 5.
Two other wrestlers Tayyab Raza and Mohd. Bilal secured Bronze medals, while weightlifters Talha Talib and Nooh Butt also won Bronze for their charismatic performances in respective categories. Meanwhile, Pakistan's hockey team could only secure the 7th position overall, after conceding 4 draws and finally, a win against Canada.
Winning 3-1, the Pakistan hockey team remain undefeated in the tournament, but the nature of their draws could not bring much to the table. However, overall, at the Commonwealth Games (Gold Coast), Pakistan has performed brilliantly, especially the wrestlers and weightlifters, who in the past, have kept the country's flag flying high at the Games as well.
This is how the internet reacted to Pakistan's performance in the CWG 2018
Pakistan has won 25 Gold medals in history of Commonwealth Games, 21 of them were won by our Wrestlers. Pakistan is also third in the list of all time CWG Wrestling medal winners. We need to invest on this game, our Wrestlers are fully capable of keeping Pakistan's flag high.

— Faizan Lakhani (@faizanlakhani) April 14, 2018
Gujranwala's Mohammad Inam wins a Gold Medal for Pakistan in the Commonwealth games. Last year it was Gujranwala's Hasan Ali that won the Champions Trophy for Pakistan with most wickets in the tournament. Gujranwala FTW!! #ShareTheDream #GC2018

— Mazher Arshad (@MazherArshad) April 14, 2018
Pakistan's Wrestler Mohammad Inam does a Lap of Honour holding the National Flag as he wins Gold medal at the Commonwealth Games #CWG2018 #CWG18 #CommonwealthGames2018 #CommonwealthGames #Pakistan #EmergingPakistan @pid_gov @KhawajaMAsif @betterpakistan pic.twitter.com/b8oO249ZMG

— Emerging Pakistan (@dev9_) April 14, 2018
Alhamdulilah ❤

Pakistan 🇵🇰 won first gold medal in Commonwealth games 2018
Inam Butt won gold medal 🎖for Pakistan🇵🇰 in wrestling 86kg weight category. #GC2018Wrestling pic.twitter.com/vQB6M82hsB

— #PrayForMuslimUmmah (@JelhumKashmir) April 14, 2018
Finally, a Gold medal for Pakistan in Commonwealth games 2018😍

— Qasim Khan (@Qasim_Khan221) April 14, 2018