This post is also available in: العربية (Arabic) اردو (Urdu)
History has seen how the brave soldiers of the Pakistan armed forces have protected their homeland, their borders from external and internal enemies always. But their popularity among masses is not because of that only, countrymen express their love for Pakistan armed forces because the army personnel has stepped up to help them in every hour of need. Be it earthquakes, floods or manmade tragedies, Pakistan armed forces are always there to serve their country fellows.
For Baisakhi celebrations – a spring harvest festival, the Hindu pilgrims from Balochistan's Nasiabad, Jaffarabad, and Sindh's Jacobabad were going to Kacchi. On their way to the city, the devotees got trapped in floodwaters at Shuran near Gandawa area of Balochistan. On the direction of Chief Minister Balochistan Jam Kamal Khan, the local administration and security forces conducted a rescue operation to protect the flood victims.
The personnel of Pakistan Army, Frontier Corps (FC), Levies Force and Provincial Disaster Management Authority (PDMA) took part in the operation under the supervision of Deputy Commissioner Jhal Magsi Muhammad Ramzan Palal, Deputy Commissioner Kachhi Sultan Ahmed and FC Colonel. The rescue teams saved around 150 Hindu Yatries from flood water through three helicopters of Pakistan Army.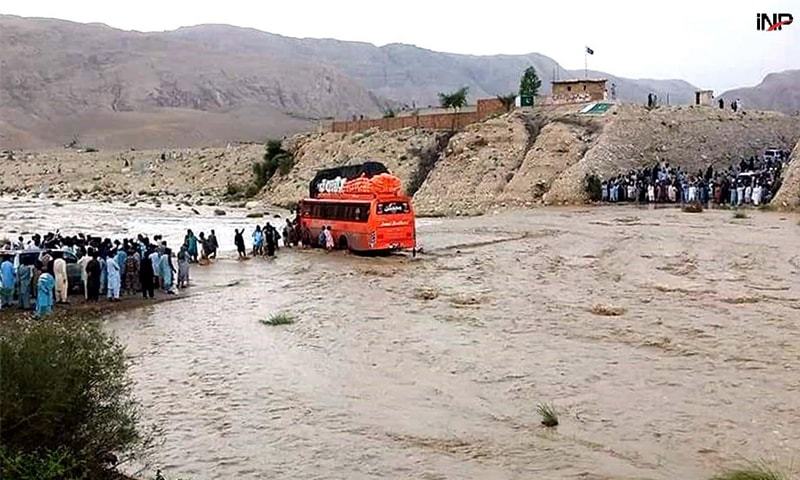 Leader of Shuran Panchayat Suraj Kumar and other members of Hindu Community thanked the Balochistan Chief Minister, Pakistan Army, FC and Levies Force official on taking immediate measures to rescue the Hindu Yatries from flood water. On the other hand, the Met office has predicted heavy rainfall in the province for the next three days and advised to stay at safe places.
After Being Rescued, Hindu Yatries Chanted Slogans In Favour Of Pakistan Army And Levies Force Balochistan!
While Social Media Users Wish That India Would Treat Their Minorities The Same Way Pakistan Amry Treated!
Kaash!

Hindu Community Wants DG ISPR To Help Them In Force Conversion Cases!

DG ISPR Major General Ghafoor Is Being Praised By Twitteratis As Well!

People on social media comparing Imran Khan and Narendra Modi that if this situation happened in India, what would Modi do? Would he order Indian armed-forces to rescue Muslims or not? Well, no one knows the answer!
And people are doing so because of the Indian Prime Minister's behavior with minorities of the state. Everyone knows how Modi and his bhakts behave towards Muslims. The recent example of this is the aftermath of Pulwama incident.
The incident became the rise of the tension between India and Pakistan after 14 February 2019, when around 44 paramilitary Indian soldiers lost their lives on occupied Kashmir Highway in Pulwama. The situation got worse when Pakistan Airforce knocked IAF jets down who tried to enter Pakistani airspace and took Indian Wing Commander Abhinandan Varthaman in the custody.
Prime Minister Pakistan Imran Khan released IAF pilot as a peace gesture and wished that Modi would come forward for the sake of harmony in the region. But it seems that Modi doesn't want peace! Let's see if Modi saw this conduct of Pak-Army towards Hindu minority and learn a lesson!
Do you want to add more to the story? Share your thoughts with us in the comments!