Marriage, known as the sweet which brings the best of both worlds. The one who eats it regrets it, and the one who doesn't regret it more. A sacred bond set up by religion and society between two people. However, the outcome isn't always as sacred as it should be.
In Sheikhupura, Punjab, a 50-year-old man married a 20-year-old girl who did not have a shelter above her head. The man pounced at the opportunity of marrying her, by lying about his assets, how he was a multi-millionaire with a lot of money, and promised his young wife that after his death, all his assets would become hers, as he did not have any family.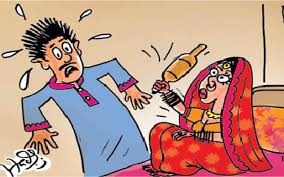 Posing as an unmarried bachelor himself, the man had been married before and was a father to 4 children, as old as his new bride. After the marriage ceremony concluded, and a few days passed, the young bride got to know the reality behind her husband's deceit. At this, she alerted media teams and other authorities, but no legal help could be provided to her as she was bound to her husband in marriage. The scenes were captured outside a court where the woman had gone to file divorce.
The footage was recorded by a local tv channel, where the woman went rogue and started beating her husband in front of the camera. Abdul Ghaffar had married Tayyaba in a glorious ceremony in Sheikhupura. Reports suggest that Abdul Ghaffar had borrowed money for the marriage ceremony, along with renting a very nice car to take her home, which obviously did not belong to him.
Not only did the woman beat her husband, but the sisters and mother of the young girl also took turns with shoes and bottles. His hat flying to one corner and his shirt in the other, the woman definitely took their anger out in style outside the court.
This is one of the reasons why people in Pakistan investigate the family backgrounds and other details of the groom (or the wife) before the wedding is finalized. Fraudsters lurk in every corner of the country and marriage, as per research, is one of the most loved affairs for these people. Tricking someone into marrying them and then notifying them about the reality.